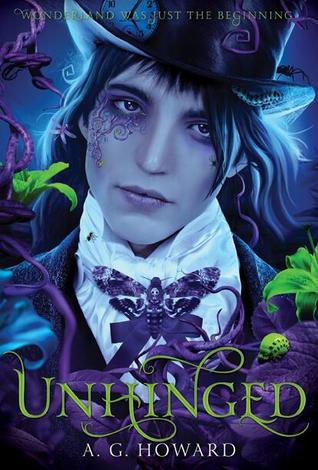 Title: Unhinged
Author: A.G Howard
E-book, 400 pages
Published: January 7th 2014
Publisher: Amulet books
Rate: 3.5 stars
Summary:
Alyssa Gardner has been down the rabbit hole and faced the bandersnatch. She saved the life of Jeb, the guy she loves, and escaped the machinations of the disturbingly seductive Morpheus and the vindictive Queen Red. Now all she has to do is graduate high school and make it through prom so she can attend the prestigious art school in London she's always dreamed of.
That would be easier without her mother, freshly released from an asylum, acting overly protective and suspicious. And it would be much simpler if the mysterious Morpheus didn't show up for school one day to tempt her with another dangerous quest in the dark, challenging Wonderland—where she (partly) belongs.
As prom and graduation creep closer, Alyssa juggles Morpheus's unsettling presence in her real world with trying to tell Jeb the truth about a past he's forgotten. Glimpses of Wonderland start to bleed through her art and into her world in very disturbing ways, and Morpheus warns that Queen Red won't be far behind.
If Alyssa stays in the human realm, she could endanger Jeb, her parents, and everyone she loves. But if she steps through the rabbit hole again, she'll face a deadly battle that could cost more than just her head.
Review:
In Splintered, Alyssa came to the netherling realm.
In Unhinged, the netherling is coming to Alyssa's world.
Now, Alyssa is a netherling queed, and Red's army are coming for her.
This book mostly happens in the human realm. I love the way A.G Howard bringing the netherling to our world, how easy they blend into our world, waiting to pop out as our worst nightmare. I kinda hate the plot because most of the time, something weird (netherling alert!) would happened, and Alyssa didn't want to believe they actually happened. She thought the problems will disappear if she ignored it. Well, newsflash: they never disappear, they only get worse. By the time she made her move against Red, things had become so much worse. I know she wants some normality, enjoying her time in high school, being with Jeb, protecting people she loves. But she also has duties to wonderland. She's a queen after all. But in the end, she only made things so much worse.
Morpheus isn't exactly trustworthy, he sent Alyssa to dangerous situation more than once. But it was all to save his realm. He never actually left Alyssa alone, he'll always be there to save her. He won't let anything harms her. He challenges her, bringing out the best and the worst of her netherling side. He'll always want her netherling side more, but he also accept her human side, he even gets affected by it. In this book, we'll see that Morpheus is truly, madly, deeply in love with Alyssa.
Jeb. I think he's okay at the beginning of Splintered. Then he came to wonderland, met Morpheus, and had this whole trust issues with Morpheus (bc Jeb is jealous), which I think is ridiculous because, admit it, Morpheus is Alyssa's best chance to survive in wonderland. Morpheus knows everthing about wonderland, he knows how to fix things, he guides her. Jeb is Alyssa's knight in shining armor, but he know nothing about wonderland. Now, after he regained his memory in Unhinged, the whole same trust issues is back. Can he atleast respect Morpheus a bit? Morpheus never shows it but I know he have respect for Jeb.
Anyways, I think Jeb is too controlling and protective when it comes to Alyssa. Don't do this. Don't do that. Don't trust him. Don't come back to wonderland. Alyssa is not some damsels in distress. Alyssa is a netherling queen, and her experience with wonderland and Morpheus have made her stronger. She can protect herself. And he kind of abandoned Alyssa for his career. Sure it's for London, but are you really that busy that you don't have time for your girlfriend?
Alyssa has been with both Morpheus and Jeb from the beginning. But I really wish Alyssa would stop being so clueless about Morpheus feelings. She always puts Jeb first, and I think that hurts for Morpheus.
There's a lot to discuss about the romance, the whole Morpheus vs Jeb issues because it played important part in this book. They represents two different element of Alyssa. Human vs netherling. Safety vs chaos.
I hate the cliffhanger! I really want to get my hands on Ensnared ASAP, but that book come out in 2015! I have to wait for a year to read it. But I really love seeing Alyssa embracing her destiny, and her netherling side in the end. Her acceptance will make her stronger.