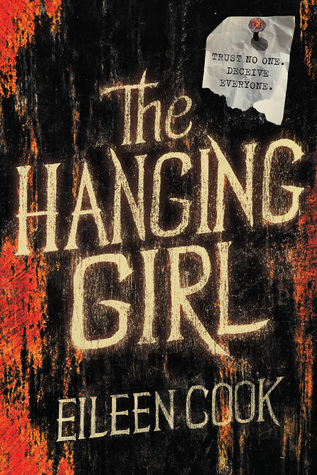 THE HANGING GIRL by Eileen Cook
Skye Thorn has given tarot card readings for years, and now her psychic visions are helping the police find the town's missing golden girl. It's no challenge—her readings have always been faked, but this time she has some insider knowledge. The kidnapping was supposed to be easy—no one would get hurt and she'd get the money she needs to start a new life. But a seemingly harmless prank has turned dark, and Skye realizes the people she's involved with are willing to kill to get what they want and she must discover their true identity before it's too late.
I received this book from publisher through Netgalley in exchange for honest review.
I haven't read Eileen Cook's With Malice, but I know a lot of people in YA community enjoyed it. I don't really like reading thriller and horror, I feel like book is not the perfect medium for the genre, but I still read them one and then. The Hanging Girl is another whodunnit story, told from the alternating POVs of Skye the fake-medium and the missing girl. It's a fast paced and short read, with a lot of plot twist to keep you entertained. While I guessed most of them, I still enjoyed reading the book to see whether my guess is correct or not. The last twist was totally unpredictable by me because I totally underestimated the culprit. My only problem with this book is I don't feel connected to any of the characters; they are one dimensional and all have horrible motives. For me who don't really enjoy reading about thriller, this is a really good book and I'm curious about Cook's other books.
THE DEAD HOUSE by Dawn Kurtagich
Twenty-five years ago, Elmbridge High School burned down. The blaze killed three and injured twenty, and one pupil, Carly Johnson, disappeared. For two decades, little was revealed about what became known as the Johnson Incident. Until now. A diary has been found in the ruins of the school. In this diary, Kaitlyn Johnson, Carly's twin, tells of the strange and disturbing sequence of events leading to the incident. But Kaitlyn doesn't exist. She never has. Chilling, creepy and compelling, THE DEAD HOUSE is one of those very special books that finds all the dark places in your imagination, and haunts you long after you've finished reading.
This book is definitely a weird read. When you read the first chapter, you'll think you know what really happen with both Kaitlyn and Carly. However, as the story goes, you begin to doubt your assumptions and spiralling down the dark path with the characters. Are the events in this book real or only in Kaitlyn's mind? Who knows. What actually happened? No one knows. I really like how the format of journal, video, recordings, and transcript- it definitely adds more to the suspense and the question whether the events are real or not. I just think the middle part of the book could be trimmed a little bit because the book felt too long, and I really wished the death toll isn't that high.
THEY ALL FALL DOWN by Roxanne St. Claire
Every year, the lives of ten girls at Vienna High are transformed.
All because of the list.
Kenzie Summerall can't imagine how she's been voted onto a list of the hottest girls in school, but when she lands at number five, her average life becomes dazzling. Doors open to the best parties, new friends surround her, the cutest jock in school is after her.
This is the power of the list. If you're on it, your life changes.
If you're on it this year? Your life ends.
This book has one of the most interesting premise I've ever read. Every year, Vienna High listed 10 hottest girls in their year. But there's a catch: if you're on the list, there's a possibility of you dying a horrible, mysterious death. It definitely sounds like Final Destination sets in high school, so why not? And it was; the girls started to die one by one and no one knows why. And it was a very compelling read because you, as a reader, are pulled to guess WHY and HOW. The characters are one dimensional, but it doesn't matter since the mystery itself is enough to keep me interested. And then come the big reveal, which is totally unpredictable but also very, very absurd and sexist it's just so bad and dissapointing. I felt really cheated when I read them, because WTF??? If I could rewrite that reveal, I totally would but sadly, I couldn't. So yeah, despite having a strong plot and interesting premise, the horrible reason totally brought the book down for me.
Do you read anything scary in October?