Daughter of Smoke and Bone // ✰✰✰✰✰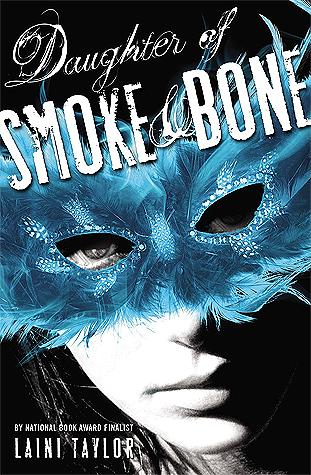 Around the world, black hand prints are appearing on doorways, scorched there by winged strangers who have crept through a slit in the sky.
In a dark and dusty shop, a devil's supply of human teeth grows dangerously low.
And in the tangled lanes of Prague, a young art student is about to be caught up in a brutal otherworldly war.
Meet Karou. She fills her sketchbooks with monsters that may or may not be real, she's prone to disappearing on mysterious "errands", she speaks many languages – not all of them human – and her bright blue hair actually grows out of her head that color. Who is she? That is the question that haunts her, and she's about to find out.
When beautiful, haunted Akiva fixes fiery eyes on her in an alley in Marrakesh, the result is blood and starlight, secrets unveiled, and a star-crossed love whose roots drink deep of a violent past. But will Karou live to regret learning the truth about herself?
OH WOW GUYS. This is my second time reading this, but my opinion hasn't change. This got to be one of my favorite series opener.
"Once upon a time, an Angel and Devil fall in love. It did not end well." Such an iconic opening line.
Laini Taylor has a way with words. Her metaphors take us to Karou's and Akiva's deepest feeling: their loneliness, yearning, and loss. The emotions felt real and give such depths to the characters.
I love how fierce and sassy Karou is to Kaz, how much she loves her chimaera family, and how close she is with Zuzanna. She wasn't easily persuaded with the beautiful Akiva, it took her a while to warmed up to him. It's rare to see this in YA.
Akiva is definitely an intriguing character. Who is he? What happened? It's really great to see his growth from deadness and vegeance oriented to someone filled with hope and love.
The amazing writing also created a very vivid setting. I could imagine walkign around the cobbled stone and bridge of Prague, eating goulash in Poison kitchen, and also the depressing battlefield in Eretz.
That ending. That cliffhanger. I need to know what will happen next!
Days of Blood and Starlight // ✰✰✰.5
I will not put the synopsis here because it will contain spoiler for the first book
I still love Laini's writing, but sometimes, less is more. In this book, her writing quickly escalate from "beautiful" to "purple prose". She puts metaphors in everything, there must be like paragraphs upon paragraphs of metaphors about how sad and lonely Karou is, and how regretful Akiva is, and it will be repeated again the next time we encounter the characters.
But again, vivid setting. I love how we delved deeper into Eretz and got more flashback that we understood what cause the war, the background of our characters, and what's at stake here.
How can Laini Taylor created the chimaera is beyond me. Each of the chimaeras are unique, I can't imagine having enough imagination to visualize 9450259 different kind of chimaeras. Props to her.
Due to the purple prose though, the plot is stagnant. And as someone who's more into plot-driven rather than character-driven stories, I'm losing my patience half of the time I'm reading this book.
Buy hey, we're nearing the end so bring on the next book!
Dreams of Gods and Monsters // ✰✰
Possibly the best gif to illustrate me reading this book. I'm both Cookie and Lucious in this case.
I mean, holy shit, the plot b a r e l y moved. And it's the final book, it was supposed to be all fast paced war!
But noooo. The author decided to add new characters and new subplot that are totally unecessary. The whole new subplot supposed to change the direction of the series, making it part of the ~grand scheme~ but really, it's not even resolved in the end.
Not to mention the writing. What was purple prose has now become torturous to read. EVERYTHING has a metaphor. Scarab has a whole chapter of inner monologue on her first impression towards Akiva. A whole freaking chapter of monologue. Meanwhile, the war (what war?) only took like 2 chapters.
And then the author feel the need to describe the feelings and physical appearance of the characters everytime you met them. You're afraid you will forget how our characters look? Don't worry, you will be reminded of Karou's blue hair, long neck, and sadness, Akiva's fiery eyes and unrealness, Liraz's fierce beauty, Zuzanna's doll-like but fierce temprament, and so on.
You won't forget the characters anytime soon because everytime you meet them, you will be reminded.
Also, WHERE IS THE BLOOD BATH I WAS PROMISED OF? Jael and Joram were supposed to be these ruthless king that slayed all chimaera, the Dominion overpowers the resistance by number… the build up and the promise of great war from the first book is just a false hope. Nada. No war, not even blood bath.
There are also plot inconsistencies I wouldn't discuss but really grated on my nerves, because spoilers.
I guess the ending was nice and bittersweet? But I'm still pissed.
Basically: screw this. I'm so glad I'm done with the series. This book totally waste my time.
Overall
It was an amazing series with vivid world building, rich writing, and great plot potential. But as the series goes, the writing become more and more torturous to read while the plot crawls forward, and I feel like the author was torn on which direction should she took the story, and ultimately, ift ruins the series. I'm still fond of the series, but 98% of the fondness come because of Daughter of Smoke and Bone, not because the other two books. If you love purple prose, I definitely recommend this, but if you don't, then you better avoid this series because you will hate it.