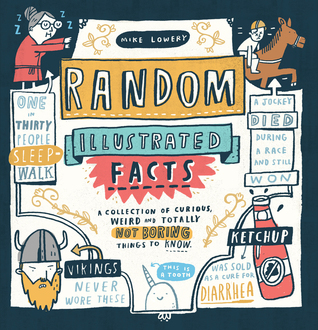 Random Illustrated Facts by Mike Lowery // ✰✰✰
A collection of illustrated trivia unlike any other. From glow-in-the-dark cats to Jupiter's diamond showers to the link between dancing goats and the discovery of coffee, here are up to 100 obscure and fascinating facts brought to life in Mike Lowery's quirky, hilarious style. Each illustrated fact is paired with a handwritten web of related tidbits, recreating an entertaining dive down a trivia rabbit hole.
Random Illustrated Facts is a collection of random facts the author has collected throughout the years. Not only facts though- the author also illustrated it. It become kind of a routine for him to wake up and illustrate every morning. The facts are divided into 5 parts here: history, animal, food, science, and random daily things. The illustrations are definitely gorgeous and eye-catching; they are filled with cute images and bursting with colors. However, some of the facts are hard to read because the font is too "unique". I also think it might be because I read it in e-book version, so physical copy might be better and more fun to flip through😊
This slideshow requires JavaScript.

Little Red Wolf by Amelie Flechais // ✰✰✰✰✰
Lose yourself in in the dark forests of Amelie Flechais' spectacular artwork. A young wolf, on a journey to bring his grandmother a rabbit, is charmed by the nice little girl who offers to help him… but nice is not the same as good. A haunting fairy tale for children and adults alike.
We all know the story of Red Riding Hood and since this is a children's book, we must've think that we know what's the twist in this book are going to be. I know I thought that.
Well, I was wrong. I totally didn't see that coming.
We follow the story of Little Red Wolf while he travelled from his house to his grandma's house. The art was breathtaking. The color were soft and the illustration were very intricate. It definitely gives a fairytale quality to the story. While the story itself was pretty dark to be read to small children, it's also what makes this book fits for older reader. Fairytale retelling has been a booming genre for the last couple of years in YA, so why not give this illustrated retelling a try?
This slideshow requires JavaScript.
Dollmaker of Krakow by R. M Romero // ✰✰
In the land of dolls, there is magic.
In the land of humans, there is war.
Everywhere there is pain.
But together there is hope.
Karolina is a living doll whose king and queen have been overthrown. But when a strange wind spirits her away from the Land of the Dolls, she finds herself in Krakow, Poland, in the company of the Dollmaker, a man with an unusual power and a marked past.
The Dollmaker has learned to keep to himself, but Karolina's courageous and compassionate manner lead him to smile and to even befriend a violin-playing father and his daughter–that is, once the Dollmaker gets over the shock of realizing a doll is speaking to him.
But their newfound happiness is dashed when Nazi soldiers descend upon Poland. Karolina and the Dollmaker quickly realize that their Jewish friends are in grave danger, and they are determined to help save them, no matter what the risks.
After finishing The Bear and the Nightingale recently, I've been craving more story sets in Slavic country. I expected The Dollmaker of Krakow to tell us a beautiful and poignant story set in WW2, sadly however, that's not what I got.
Like many other reviewers, I have to agree that the author seems to be confused of how the tone of the story should be. The whole magic and land of the dolls story fits children of 6 or 7 years old, while the war experience written in this book feels to complex for that demographic, yet it will fit children of 13-15 years old. I appreciate that the author try to simplify the war by using the land of the dolls metaphor, but then the war in this book is too grim when compared with land of the dolls story. Not to mention the characters themselves seem like they were adults with child-like mind; easily believes in magic (really?), easily persuaded, and easily exciteable. It really makes the book feels jarring to read because it feels too child-like for all the horrible things (and there are a lot, even more than in The Book Thief), that when those things happened, it left no impact for me.