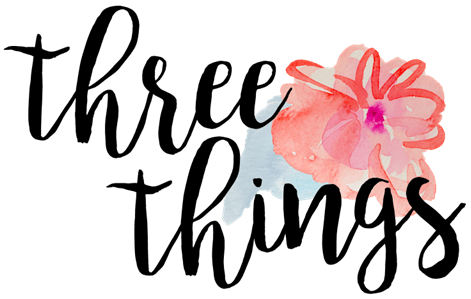 I saw this tag on Bookmark Lit and it has been sitting on my bookmark for a year! Now we're nearing the end of the year, I figure it's a good time to finally do this tag. Also, I want to switch things up because I've been posting a lot of bookish stuff (which I know it's normal, since this is a book blog) so I think I'll share some personal things with you guys.
Lauren added some new prompts in this post, but she saw this post on a new blog she started following and turns out, that blog also grabbed it from someone else. Image credit also goes to Lauren!
Three things I'd never give up | Books, sleep, green tea
The first question is really hard because there are a lot of things that I don't want to give up! Books and sleep are my escape and green tea calms me down.
Three favorite vegetables | Broccoli, potato and beans
Tbh I never understand what's the hostility between you people and broccoli. They are delicious! Also, since potato is classified as vegetables, I'm going to put it in. I also love beans, especially if they are in soup. Yum!
Three favorite fruits | Banana, grape, dragonfruit
I love fruits that are easy to eat, and all three of them are easy to eat. Also, they taste delicious, so why not? 😀
Three shows I watched faithfully from beginning to end | Da Vinci's Demons, Common Law, Game of Thrones
I'm a notorious series unfinisher, both for books and tv shows. I managed to finish Da Vinci's Demons only because I was so freaking addicted to it. It's awesome, yet I'm still bitter over the fact that it's cancelled. I get that the station is prioritising their shows, but while Outlander and Da Vinci's Demons are historical shows, they are so different! I mean, I love Da Vinci's but I couldn't get into Outlander. Can someone just pick up Da Vinci's? It ended right where things started to get good, damn it.
I finished Common Law because it's cancelled only after 10 episodes, which I'm also still bitter about. It's one of my pick-me-up shows, it never fails to make me laugh! And I know GoT is still running, but it's also one show that I watched faithfully no matter rain or storm.
Three places I want to visit inside the US | Yosemite, Mcway Falls, and St. Monica Pier
I've never been to the U.S, but those places are the ones I'd love to visit. Yosemite looks like an amazing place to spend a day (or more, since it's huge) in nature, while Mcway Falls is just too beautiful to pass on. As for St. Monica Pier, it has always been an epitome of summer for me. I'd love to spend a day there.
Three places I want to visit outside the US | the Bahamas, Greece, and Vatican City
The Bahamas is the first country I've ever wanted to visit. When I saw Never Let You Go video by Justin Bieber, I fell head over heels over the place and promised myself I would go there one day. Aquarium date at Atlantis resort is ultimate dream date. The next country is Greece, first because MammaMia! But also because I love Ancient Greece and I'd love to visit all the old sites. The last one is Vatican City. It's where the pope and so many catholic artefacts stored, I'd love to go there. Maybe I'll find some peace there.
Three things I always have with me | Hair ties, wallet, and keys.
Surprise surprise, I don't always have my phone with me! Like if I know I have class or church and I'll come straight home afterwards, I would rather not bringing my phone. I always bring my wallet because my money and my ID are all there, hairties because I prefer my hair up when I'm studying or eating, and keys because I need them to get into my place.
Three qualities I like about myself | Eyes, humor, and being realistic
Sometimes I dislike my eyes because being a monolid means a lot of hardship in makeup application, but in general, I really like my eyes. It might sound arrogant, but I love how realistic I am with my expectations. Some people call me pessimistic, but really, if you know things won't work out why would you keep putting your expectations high? I keep mine grounded, and they never fails me.
Three qualities I dislike about myself | My nose, being mean, my height
This will sound insulting, but it's not because it's a personal reason for me. So I have this typical flat asian nose and I don't like it. Again, I don't mean to be insulting, it ties with my next reason. At 156 cm, I belong to the "short" category, even in my country. It also means that the smallest weight I gain will show on my figure, and also my face. So there's that. And I'm also an honest person, I think it's important to be honest, but I also realize that my honesty can hurt other people, so I try to tone it down.
Three most recent movies watched | Thor: Ragnarok, The Other Boleyn Girl, and Sinister
Thor: Ragnarok is one of my most anticipated movie this year, and it was amazing! I really wish we could get more emotional depth from the movie and some of the characters feel ooc, but overall I really liked it. The Other Boleyn Girl blew me away! I always love period drama, so ever since the first shot, I knew I was going to love it (the beginning is really similar with Elizabeth, and I love that movie). Sinister is a movie I watch at a halloween at my university, and it was dissapointing?? I mean people hyped it up like it's one of the scariest movie they watched and for me it was just "eh?" So yeah, it happened.
Three things that are always in my car | –
Pass. I don't have my own car, but in my mom's car, we always have tissue, umbrella, and car freshener.
Three most recent phone calls were to/from | My mom and Uber drivers
I'm not a phone person so I don't call a lot of person. The only person I talked to is my mom, who usually passes around the phone with people in my family, and countless Uber drivers to confirm order.
Three books I read and loved in college high school | To Kill A Mockingbird, The Wrath and The Dawn, and Eleanor and Park
I'm in college now so I change it a bit. To Kill A Mockingbird was an amazing book with powerful message, I love it to pieces and definitely recommend everyone to read it. The Wrath and the Dawn blew me away with the intricate writing, steamy romance, and FOOD. Eleanor and Park reminded me (or at least, gave me an idea) of how does falling in love feels when you're in teenage years and it was beautiful and it gave me ALL THE FEELS.
Three most often used makeup products | powder, lipbalm, perfume
I'm not a make up person either, I don't know how to use it! 99% of youtube tutorials are for western people or people with double eyelids and here I am with my monolids crying because I don't know what kind of make up suits me.
Three pet peeves | Slow person, ignorant person, and long videos
I'm a very impatient person, something that I try to change constantly yet it's hard. But anyway, slow person means people who do everything slowly. They eat slowly, walk slowly, and need to be dictated their task one by one. As for ignorant person, I just hate how someone couldn't know what's going on in the world or around them. I mean, don't you live here too?? I don't mean that you have to know about president's policy in detail, but at least I don't have to explain EVERYTHING from the beginning. As for long videos… I don't know why but I can't watch youtube videos longer than 15 minutes. It's just too long.
Three things that make me laugh | The Try Guys, catholic and asian meme.
The Try Guys (along with Unsolved, but we're not talking about things that creep me out here) is the bright beacon of youtube. I love these 4 boys to pieces. Yes sometimes their jokes went too far, but I still love them. Even their more serious videos are amazing. I'm a catholic and an asian girl, so the memes most of the memes don't offend me. In fact, they are so relateable I laughed like crazy when I found it! I think it's a nice way to comment on the culture and rules.
Three things that make me cry | Hachiko, Second Chance Summer, the Lion King
I do not talk about Hachiko. This movie is the main reason I never watched, nor read, anything about animals. Even before the movie start, when the theme song played the beginning, I already have tears on my eyes. I just can't. The Lion King is the first animal movie that scarred me though. That "daddy wake up" part still haunts me. It's a too tragic movie for children. As for Second Chance Summer…. it's like my worst nightmare is unfolding in front of me. Seeing Taylor's dad detoriated and the family helpless to prevent it… not to mention Taylor and her dad last few moments…. just no.