Okay, Barbie. Who doesn't know her or never heard about her?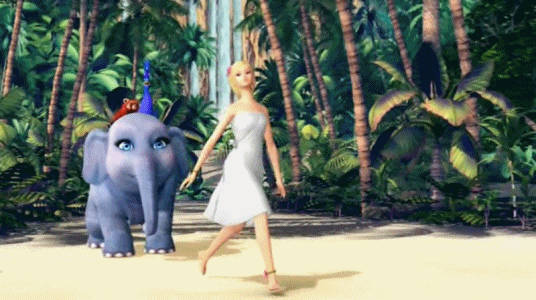 As much as I love Disney, they barely made any princess-y movies in that decade. Like every other 00's girls (I was born in the late 90's), we had to turn to the next best thing: Barbie. There's nothing more exciting than getting a doll for christmas and birthdays, buying the clothes, dress them, even dress their pets! There are so many options to pick from… the fashionista, the family, the mermaids, the fairy… I remember spending so much time in Barbie's aisle when I was a kid.
But you know what's more exciting for me? Waking up early, like at 7, to have a Barbie movies marathon until the afternoon. When I was a kid, local television in my country didn't play Home Alone or Babies Days Out or Grinch movies. Heck, I haven't even watch Miracle on 34th Street or Elf until now because they were never on. But they always played Barbie movies without a fail and really, for a little girl like me, what's more magical than watching a seemingly normal girl going on a magical adventure in a gorgeous dress and beautiful ballet performance?
And the magic of the Barbies were not only in movies, but also translates to the real-life dolls we could bought at the stores! For example, the Mermadia's Barbie, Elina, could transform her wings to mermaid's tail in the movies and the doll could too! And that beautiful blue peacock ball gown wore in Island Princess was also worn by the Barbie dolls.
While we're still in a holiday mood, I would like to share my favorite barbie movies. These are all old Barbie movies, before the whole fairy magic thing took over and made it not-as-magical as it used to be. I also know that this is such a weird topic to be posted on a book blog, but I assure you that this is not because I am out of idea. On the contrary, this is a post I've prepared for so long. When we look up "holiday movies" on google, what come up would be Home Alone, Elf, and stuff. I haven't watch them but it's also why they aren't MY holiday movies; I have no memories and that nostalgic feeling that can be associated with holiday movies. My childhood was cable-tv free because it wasn't available yet in my country, I feel like my childhood was wrong because I didn't watch the same movies and cartoons in Nickelodeon like you guys did. As this is the year where I will turn 20, consider this post as a way for me to share my childhood with you guys, and also a way to tell children that doesn't watch "normal" childhood shows that it's okay to have different growing up experience.
And who knows, maybe some of you might want to do a Barbie movie marathon with your children, and this list would help.
Barbie in the 12 Dancing Princesses
Hands down my favorite Barbie movie. This story tells Barbie adventure adapted from the 12 Dancing Princesses story, with some changes. For those of you who are unfamiliar with the original fairytale, it's basically about 12 princesses in a kingdom who sneak out to a magical underground realm to dance all night, and their frustrated father (the king) because his daughters are always tired at day. The movie plot about the 12 dancing princesses was pretty faithful to the original story, but the rest is different. I love it because it features A LOT of dancing. These princesses basically dances their way EVERYWHERE. It encouraged me to take ballet lessons when I was a kid. The soundtrack and the magic were very good too, it feels the most fairytale-like for me out of all barbie movies.
Barbie in the Nutcracker
My first ever barbie movie, the one which I own in DVD, and that gives me my long lasting love towards nutcracker. Again, this movie stays true to the ballet show, and I love how the songs, dances, and pas de deux were incoporated into the story. It's so beautiful, I still rewatch this on holidays. THAT FINAL PAS DE DEUX STILL HAUNTS ME. Oh also, do you know that this is the first ever Barbie movie released?
Barbie in a Christmas Carol
Another holiday themed one. This one has no dancing and barely any singing, but the story is very enjoyable and what introduce me to A Christmas Carol in the first place. If you think other adaptations might be too scary for children, this one is not that scary, but still hold that omnious feelings.
Barbie: Mermaidia

This is actually the second part of the Fairytopia trilogy (no, I'm not including Mariposa) and in my opinion, the best. Elina, the wingless fairy turned hero in the first movie (long story, just watch), now have to save the fairytopia again with the risk of losing her newly-acquired wings. She needs to save the mermaid and in order to do that, she has to sacrificed her wings to tail in a certain amount of time; failure to return back in time means she would be a mermaid forever. I love the humor in this one, how brave and selfless Elina was, in my opinion, this is where Elina shines as the hero fairytopia deserve. And of course, fairies. Who doesn't love fairies?
Barbie as the Island Princess
This movie is like the female version of Tarzan filled with catchy song and beautiful dresses. And also, cute animals! This is the first barbie movie I watched together with my sister once she's old enough to understand the movies, and she loved it to pieces that she bought the CD and game. I love how Ro bravely venture to the outside world, yet she stays true to herself and doesn't forget her friends.
Bonus: The Most Popular Girls at School
Okay, honestly, this is not a Barbie movie, more like a webstory on youtube using barbie dolls as mean girls. I swear they are so addictive and entertaining, I watched it during lectures (each video is around 2 mins each) and they become an inside joke in my clique. Go watch it! A disclaimer though: this does not fit to be watched with your kids.
Do you watch barbie movies? What are your favorite?