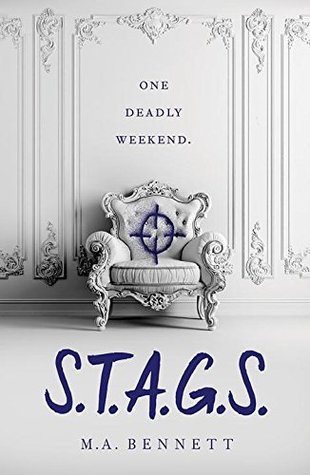 S.T.A.G.S
by M.A. Bennett
E-ARC, 225 pages
Published January 30th, 2018 by Penguin Teen
✰✰✰.5
Seventeen-year-old Greer, a scholarship girl at a prestigious private school, St Aidan the Great School (known as STAGS), soon realizes that the school is full of snobs and spoilt rich brats, many of whom come from aristocratic families who have attended the institute throughout the centuries. She's immediately ignored by her classmates. All the teachers are referred to as Friars (even the female ones), but the real driving force behind the school is a group of prefects known as the Medievals, whose leader, Henry de Warlencourt, Greer finds both strangely intriguing as well as attractive. The Medievals are all good-looking, clever and everyone wants to be among their circle of friends. Greer is therefore surprised when she receives an invitation from Henry to spend a long weekend with him and his friends at his family house in the Lake District, especially when she learns that two other "outsiders" have also been invited: Shafeen and Chanel. As the weekend unfolds, Greer comes to the chilling realization that she and two other "losers" were invited only because they were chosen to become prey in a mad game of manhunt.
I've been eyeing this book for a while now. It's been a while since I read any thriller and the promise of "manhunt", as terrible as it is, sounds too interesting for me to be missed. I was lucky I managed to get an ARC from Netgalley before the whole change happened, and even though I managed to read it only recently, I highly enjoyed it!
This book is so easy to read, if it wasn't because it's already night, I would finish it in one day. The story is told in flashback form, Greer is a great narrator with her wry sense of humor, and she also provides insight on how she was feeling then and now in retrospect. It's very captivating and make the story flows really well. The plot is quite predictable for me, but the ending really gave me chill.
However, I feel nothing for the characters. I'm only curious on how the story would end and what would their fate be, but I have no further attachment on them. This is basically because the story only concerns around that weekend and Greer was too busy figuring out the plot and staying alive to offer us another glimpse to her life, as with the others. I can tell however, that they are smart and determined, yet also pretty naive.
My other qualms are the romance, which I think really necessary, Greer self-righteous feminism, and exoticization (is that even a word??) of Shafeen. I found the romance to be very unecessary, it adds nothing and sours the book in the end for me. The author used phrases like "Nel is all light while Shafeen is all dark" (not an actual quote, I forgot bc I didn't bother to read it properly) and at the end, where Greer visit Shafeen's home, she was playing with lilypads and Shafeen in white shirts like???? I'm not Indian but if I am and someone actually use those words to describe me and my couple, I would be mad. I couldn't overlook it, so it took one and a half star down for me.
Overall, I really enjoyed this book. The pacing was nice and the story flows really well, however it is not perfect. The ending gives me chills and it's definitely an open-ending one, so I really need to know what would happen next!