Hi guys, welcome to another post of top 5 wednesday!
This week's topic is my favorite M/M couple! I have to shamefully admit, I don't read a lot of LGBT+ books, causing me to not get enough exposure to LGBT+ couples. It is something I'd love to improve this year, so recommendations are greatly appreciated!
Also, I'm really sorry if you have read the ~unedited~ version of this post! This week has been really hectic and I haven't manage to draft the real version of this post, so sorry! I hope you enjoy it now 🙂
Merlin and Arthur (Merthur)
I know that this is not exactly canon, but there are a lot of baiting, hinting, and ~special treatments~ that cause me to ship them with my whole heart. The chemistry between them, the progression of their relationship from a spoiled prince and a servant to friends, and getting stronger to each other's most trusted companion… it's just amazing to watch. The ending thoroughly destroyed me and I haven't been able to move on from it.
Dean Winchester and Castiel (Destiel)
Not canon at all but God I'd be lying if I don't ship them. Castiel does favor Dean, whether it's because he's the one Cas' tasked to save or not, he mostly only replies when Dean is the one calling him, and the rest of the hunters know. Dean also has a soft spot for Castiel, and the amount of hidden meaning and lingering gazes they gave each other is too much. Even Sam could see it damn it Dean.
Dean Winchester is bi. Fight me.
Magnus Bane and Alec Lightwood (Malec)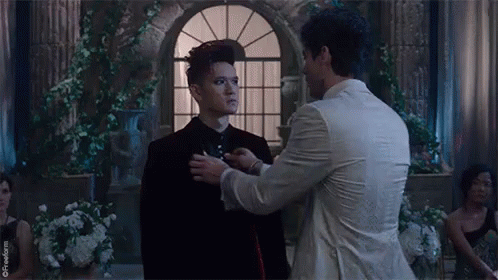 No further explanation needed!!!!! I replayed this scene so many times. I love the book Malec more because their relationship is more developed before they actually become a couple, but seeing this kiss played in front of my eyes really worth the speed-up build.
Achilles and Patroclus
The original gays™, this couple is still up for the debate, along with Alexander and Hephaestion. At least the latter has a happier story compared to the first?? Trojan War is definitely my favorite greek mythology, the historical realness of these events are still up for debate, but the relationships between the characters, fictional or not, definitely hit all the right notes for me.
Nico diAngelo and Will Solace
This beautiful drawing is made by cookiecreation on tumblr 💛 My babies!! Nico deserves Will Solace, his literal sun. After all the shits he's been through, having Will as his boyfriend is the good karma he deserves. Will is the Son of Apollo, bright as a sun, nice, thoughtful, loyal…. every bit of happiness Nico deserves. If uncle Rick plans to pull them apart, I will riot for sure.
Me elsewhere
Twitter || Bloglovin || Goodreads
What is your favorite M/M couple?