Yes, I am aware that it's friday and not wednesday, but I feel like posting it today so sue me.
Welcome to another edition of Top 5 Wednesday, which is a weekly meme hosted by the lovely Samantha and Lainey! You can check the group here for more discussions and topic.
Today's topic is about my favorite urban fantasy books, which is a genre I love but find myself not reading them as much as I used to. I admit, I find it difficult to differentiate urban fantasy and paranormal, as they usually contain similar elements. However, from my recent internet search, apparently they are different in a way that if we remove the romance and the story could still go on, it's an urban fantasy.
I really don't know what does that mean but that's what I found, so rather than trying to distangle the two genres, let's just get started.
Unearthly by Cynthia Hand
A few years back, there were a large influx of angels-focused book, and while I enjoyed them, I have to admit the famous ones did not live up to their hype. Unearthly, however, surprised me and I couldn't stop thinking about this series until now. The story is pretty simple, new girl in town turns out to be a half-angel creature, with two guys competing for her love. But the characters are really fleshed out, and the two guys, instead of having a "she's-mine-shoo-go-away" thing, they helped her figure things out and respect her decision of who she's choosing. Also, the mother-daughter relationship in this book is superb and plays an important part in the overall plot.
Need by Carrie Jones
One of my all time favorite, sure you know based on the amount of mention this series receive on my blog, this book is a refreshing twist on pixie set in a cold town of Maine. The setting is very atmospheric and there are several different mythologies and supernatural elements at play, it kept me on my toes. The romance, while being an important driving point for the plot, does not overwhelm the story.
Harry Potter by J.K. Rowling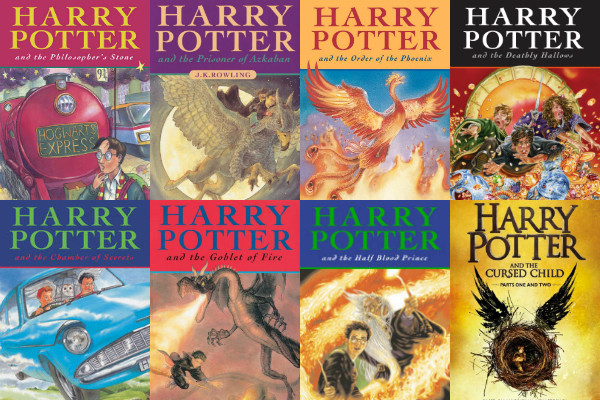 If we are going based on the definition of urban fantasy then yeah, Harry Potter is definitely one. I don't think I need to explain more about why this series on my list 🙌
And yes, I'll probably read THE CURSED CHILD this year, after I finish my HP reread.
Percy Jackson series by Rick Riordan
Another famous one! Not as popular as Harry Potter, which is literally EVERYWHERE, but still famous nonetheless. For those of you who haven't read it, this series follows then-11 year old Percy Jackson who turns out to be a child of Poseidon. He was accused of stealing Zeus' lightning bolt and had to return it, and the rest of the series follows basically the same structure of quest with three challenges. I love the friendship, the characters, the adorable couple that is percabeth, and the sassy awesomeness that is Percy Jackson!😂
Dark Guardian series by Rachel Hawthorne
Another underrated series, buried by various werewolf books available in the market. The cover looks cheesy and the synopsis sounds cheesy too, but believe me, the story is really enjoyable! I read the first one years ago and read the next books recently and I still enjoyed them! The books follow a peaceful secret society of werewolves, Shifters, that live in a national park and disguised as natives working as park ranger for generations. They are hunted by an ambitious research organization, who as usual, want to weaponize their DNA and how the society needs to hide from the organization. The thing that stands out to me the most about this series is how tight-knit the shifters were, they have a strong sense of sisterhood/brotherhood and even when love triangle happen (it's inevitable, I mean hey they are all teenagers growing up together), no hard feelings for them.
Me elsewhere
Twitter || Bloglovin || Goodreads
Can you differentiate between urban fantasy and paranormal? What's your favorite urban fantasy book?