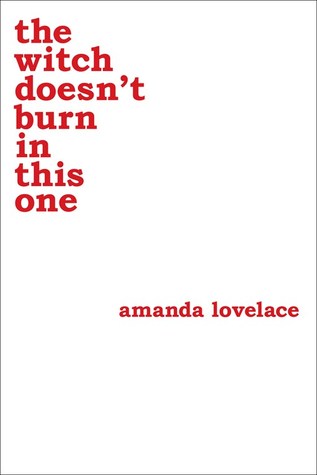 The Witch Doesn't Burn In This One
by Amanda Lovelace
Paperback, 208 pages
Published March 6th 2018 Andrews McMeel Publishing
✰✰✰✰✰
The witch: supernaturally powerful, inscrutably independent, and now—indestructible. These moving, relatable poems encourage resilience and embolden women to take control of their own stories. Enemies try to judge, oppress, and marginalize her, but the witch doesn't burn in this one.
Poetry has been a tricky genre for me. As an ESL person, I find it hard to see the hidden meaning that sometimes hidden within the words, the rhymes, and the metaphors and be quite hard for me to grasp too. The rules of english poetry is totally different from Indonesian one, the latter being more structured while the first is more free, and it doesn't help me with my confusion. This is my main reason why I don't read poetry and free-verse books, they confuse me and I usually do not enjoy them as much as I should.
With the resurgence of poetry popularity recently however, I find myself willing to try more and more poetry books. There's bound to be hit and miss, but I find myself getting better at connecting with the pieces, even though only slightly better. One of the most hyped up poetry collection come from Amanda Lovelace and I am intrigued with the premise and some excerpts I read. While I haven't read the Princess, I find myself pleased that I love the Witch even better than I expected.
the man with the witch-killing look in his eyes drinks deeply from the chipped lilac teacup, his trembling hands making it clink against the saucer as he places them back together. my stomach churns in circles as the dark liquid dribbles down his chin in lines. he eagerly slides the cup & dish to me across the old, rickety table & I waste no time turning the cup over the dish to get rid of the excess. when I turn the cup right-side up, I spot the clusters of soggy brown & black leaves that litter the bottom in various shapes & sizes. I study it for a moment & immediately look away, nervously wringing my hands in my skirts. there's no question what the means.

"well? what does is say?" he asks.

i keep my eyes down. "the leaves say you're going to . . . pay."

"p-pardon?" he sputters, his eyes filling to the brim with terror.

"They say . . . you're all going to pay," i whisper.

– the leaves never lie
I love how unapologetic the collection is. They are full of anger and rage, of being repressed and following what other's want. Of being blamed and repressed for just being a women, for just be.
to be a

woman

is to be

warbound,

knowing

all the odds

are stacked

against you.

– & never giving up in spite of it
But they are also filled with hope that we can love and reclaim ourselves, encouragement to do just that, and support fellow sisters. It give us a sense of support, that we are not alone in the experience, and there is something wrong and we can start to make it better by reclaiming ourselves. The sense of sisterhood reflects to our situation in the real life: it's not men who protects us, often times, it's women protecting other women.
women

learn

to sense

what who

danger

looks like

just

by catching

another

woman's eye

from across

a crowded

room

– survival
Overall, it's a collection that speaks to me. While there are some that borders on murder and violence, most of the pieces here speaks out my feelings in an elegant way, without romanticizing it.