Welcome to another edition of Top 5 Wednesday, which is a weekly meme hosted by the lovely Samantha and Lainey! You can check the group here for more discussions and topic.
This week's topic is a freebie so I decided to reuse the old topic I missed. The topic I'm choosing come from March 2016 and about least favorite books in my favorite series. While I prefer to read stand alone, I have my fair share of series that I've read. As there are multiple books in a series, there's bound to be a book that we do not like. Maybe because it just felt like a filler book, or throw any development out of the window, or because it change the direction of the series. For whatever reason, the following books are my least favorite book in my favorite series: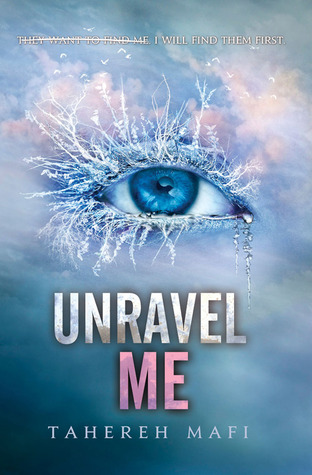 The Lightning Thief (Percy Jackson and the Olympians) by Rick Riordan
Yes people, the first book in the series is my least favorite. It felt very immature to me as Percy was only 11 in this book and I had to stopped reading several times because I was infuriated with how immature Percy was. I love the Greek Mythology and the direction the series was taking though, and I can happily report that this series gets better as it goes on!
Dreamless (Starcrossed trilogy) by Josephine Angelini
One of the most underrated YA paranormal series, this series follows the descendants of the Trojan war in the aftermath of the curse at the end of the war, that still haunts them to the modern times. The first book was amazing, the third book is definitely my favorite, but Dreamless… not so much. While I ended up loving Orion better than Luke in the end, the pacing really suffers in this book and there are too many teenage angst going around for me to care. Give me all the juicy mythology stuff please!
Unravel Me (Shatter Me trilogy) by Tahereh Mafi
By no means Shatter Me is my favorite series, but I did enjoyed Shatter Me and loved Ignite Me. Unravel Me? Let's just say I spend more time being frustrated and yelling at Juliette and Adam rather than reading. The romance in this book was very frustrating, Adam had a personality flip and Juliette keeps moping and crying and worrying whether she should pick Adam or Warner while THERE'S BOMB LITERALLY THREATENING THEM. Thank God for Kenji who actually snapped at her.
City of Lost Souls (The Mortal Instruments) by Cassandra Clare
The shadowhunter series will always have a special place in my heart, but can we all agree that TMI should've stayed a trilogy instead of being made into a 6 books series?? City of Lost Souls is definitely the worst book in the series, as when I read it the first time, I DNF it. Then I decided to reread it in different language (I was reading in English, I'm switching to Indonesian) and only then this book managed to grab my attention, yet the progress was extremely slow. Nothing much happened in this book except for the fact that everyone is preparing for the final battle, Maia got a totally unecessary romance, Sizzy getting together, Malec separated (sobs, I remember how stressed I was towards them), and Clace being insuffarable together as they were individually.
Basically, not much happen plot wise but a lot of things happened in the department of personal drama.
Miss Mayhem (Rebel Belle) by Rachel Hawkins
Last but not least, Miss Mayhem! I almost forgot about this despite being very dissapointed in it. Rebel Belle was such a fun series, but in Miss Mayhem, there are too many unecessary teenage drama and angst that brought down the fun level and slow down the pacing to crawling. Boo.
What is your favorite series and what is your least favorite book in it?