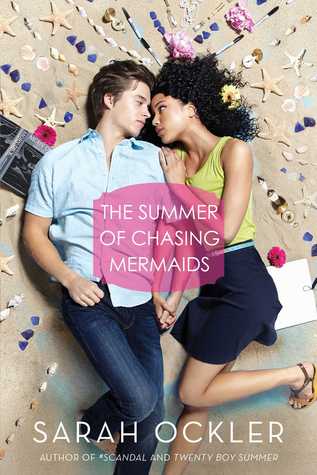 The Summer of Chasing Mermaids
by Sarah Ockler
Paperback, 416 pages
Published June 7th 2016 by Simon Pulse
✰✰
The youngest of six talented sisters, Elyse d'Abreau was destined for stardom—until a boating accident took everything from her. Now, the most beautiful singer in Tobago can't sing. She can't even speak.
Seeking quiet solitude, Elyse accepts a friend's invitation to Atargatis Cove. Named for the mythical first mermaid, the Oregon seaside town is everything Elyse's home in the Caribbean isn't: an ocean too cold for swimming, parties too tame for singing, and people too polite to pry—except for one.
Christian Kane is a notorious playboy—insolent, arrogant, and completely charming. He's also the only person in Atargatis Cove who doesn't treat Elyse like a glass statue. He challenges her to express herself, and he admires the way she treats his younger brother, Sebastian, who believes Elyse is the legendary mermaid come to life.
When Christian needs a first mate for the Cove's high-stakes Pirate Regatta, Elyse reluctantly suppresses her fear of the sea and climbs aboard. The ocean isn't the only thing making waves, though—swept up in Christian's seductive tide and entranced by the Cove's charms, Elyse begins to wonder if a life of solitude isn't what she needs. But changing course again means facing her past. It means finding her inner voice. And scariest of all, it means opening her heart to a boy who's best known for breaking them…
I really want to love this book. I really do.
The Summer of Chasing Mermaids is one of my anticipated read on my owned TBR. It tells the story of Elyse, who had her whole life figured out as a singer together with her twin sister Natalie. But an accident left her mute and she went into a self-imposed exile to small, but charming Atargatis Cove. There, she met Christian Kane who was the resident playboy and helped him to win a bet to save their houses.
I can't speak on the representation, but the diversity is amazing. I love how important Trinidad and Tobago is to Elyse, despite of everything it was still her home and I love how much we see the islands here. Not only through her memories, but she always carry the islands within her. I also love how the author manages to convey Elyse frustration and difficulties with her situation. Not that I'm saying being mute is bad, but having your voice ripped from you even though it is your future is VERY hard and the author managed to write that in a beautiful and realistic way.
The writing totally threw me off. I didn't expect it to be very beautiful and prose-y, there's no indication of that from the synopsis and the cover. I expected this to be a retelling of The Little Mermaid which turns out to be totally wrong. I mean… six sisters? Losing her voice? Charming prince? The story, despite having the same element, has nothing to do with The Little Mermaid and in fact, deals with some serious issue. The writing might work if only the story is indeed a retelling. 
At the same time, the writing can become too much. It was certainly lyrical and beautiful, but I feel lost in its beauty. It helped me understand Elyse feelings; the ghost of her past, her unable to let go, her loneliness and isolation. At the same time, it distances me from the other characters; we see the story from Elyse's beautiful feelings and most of the time, she chose to keep her distance from the other characters. This caused me to lack the connection to the story and characters, especially the romance between her and Christian.
The pacing also suffers as we spend time exploring Elyse's thoughts and feelings and dwelling on her past and what could've been. There's not much happening and I found myself almost DNFing this book at several occasions. I also don't really understand any of the Elyse-sees-Atargatis sequence. Was it real? Is she hallucinating or just the romanticizing of her thoughts? This added to my confusion and I find myself getting even more lost in the story, and not in a good way.
One thing I really loved about this book is the underlying message of this book. We met the Kanes in this book along with the Katzenbergs. The Kanes are ruled by the father, everything he said is absolute and the rest of the family are unable to do/said anything against him. The Katzenbergs are not different, except its worse because he is also the mayor of the town. I found myself really disgusted of how dismissive the mayor was towards women, it really made my blood boils. At least Andy Kane still have enough decency to appreciate Elyse. It might be unclear until you read the acknowledgement, but this book is dedicated to the people who lost their voice. Elyse literally lost hers, but there are other ways you could lost your voice too, just like the Kanes, the Katzenbergs, and the rest of the town. Your voice would not always be heard, but finding it and voicing it are the first step in making action and I really really love the message this book presented. 
Special honorable mention towards the cover; I love how accurate it is towards the story. There's no white-washing Elyse and if you pay close attention, you could see her scar! You could also see a lot of things important in this book such as sharpie, books, seashells, sea glass, and more.
Overall, this book dissapointed me as I felt disconnected and thrown off by its writing. However, this book also has an important message and well-done representation. The setting is also very atmospheric and vivid. This book might not be for me, but it could be very well be the book for you.