Welcome to another top 5 wednesday! Top 5 Wednesday is a weekly meme hosted by the lovely Samantha and Lainey! You can check the group here for more discussions and topic.
This week's topic is about our favorite trickster/jokester/prankster in honor of April's fools. I admit it was a pretty hard topic as I rarely see them in movies or books, but after some digging through my memory, I managed to listed my top 5 picks. Let's jump right in!
Kenji
Kenji is not a prankster per-se, but he's definitely a jokester, someone who make the situation more lively throughout the series. He can be serious and he cared a lot for the people, but he's also the ones who's able to crack a joke and make everyone smile in an instant. He always make the atmosphere lighter when there are too much going on in terms of the war and the ~angst~.
Puck
Not the original one from Midsummer Night's Dream, oh no. I don't do Shakespeare for that matter. This Puck is from the Iron Fey series by Julie Kagawa, aka the OG fey books. I barely remember this series but I know I am torn between Puck and Ash. Puck was aloof but loyal, and his pranking ability has saved the trio lives many times!
Gabriel from Supernatural
The ultimate favorite, of course, is Gabriel! Mystery Spot (hEAAAT OF THe MoMENT) and Changing Channels are one of my favorite episode of the series; they are fun with the exact amount of fighting and angst! Also, let's not forget casa erotica. What a masterpiece of a character this show has created.
Fred and George Weasley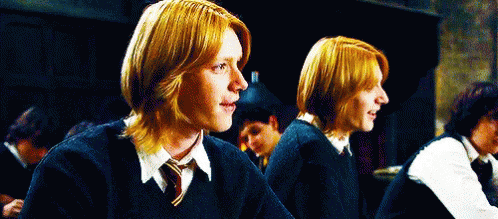 I can write the marauders but tbh their humor can be cruel and stepping onto bullying territory (this is my essay topic for this July #potterpost) while Fred and George never target an individual and mostly harmless joke. Plus points is their pranks often used to fight for the light side, not only for the pure fun of pranking. I'm still not forgiving Jo for separating the twins *sobs*
Loki
I mean, come on. You know this one is coming, right? When we are talking about this topic, there's no way I am not putting the God of Mischief himself in this list. In MCU he's barely God of Mischief and more God of Killing but heyyy I pretty like the concept of Loki in the Norse mythology.
Is there any other trickster/prankster/jokester I missed? Let me know down below!