The Princess Bride
by William Goldman
Ebook, 148 pages
Published January 1st 2007 by Mariner Books
William Goldman's modern fantasy classic is a simple, exceptional story about quests–for riches, revenge, power, and, of course, true love–that's thrilling and timeless.
Anyone who lived through the 1980s may find it impossible–inconceivable, even–to equate "The Princess Bride" with anything other than the sweet, celluloid romance of Westley and Buttercup, but the film is only a fraction of the ingenious storytelling you'll find in these pages. Rich in character and satire, the novel is set in 1941 and framed cleverly as an "abridged" retelling of a centuries-old tale set in the fabled country of Florin that's home to "Beasts of all natures and descriptions. Pain. Death. Brave men. Coward men. Strongest men. Chases. Escapes. Lies. Truths. Passions."
The Book // ✰✰✰✰
It took a while for me to read this book, mainly because it is very rambly. Like there are so many pages where the authors just rambling about things that do not move the story forward. Even the introduction was so long! But as much as I hated it and how it slows down my reading, it is also part of the charm. I don't think I would enjoy the book as much as I did if it's not for the rambling.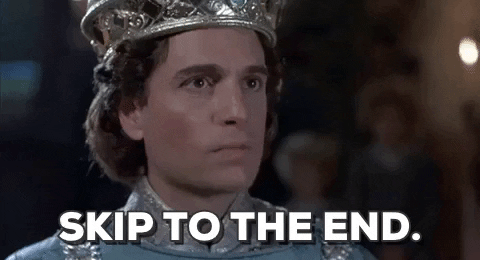 The humor was done really well! It wasn't my taste, really, but there are times where I just laugh out loud. This book is just funny and outlandish, but it was such an adventure reading it! The characters are also amazing; I couldn't say much about Buttercup because well, she didn't do much. But Inigo, Fezzik, and Westley? Boy oh boy, I LOVE them! They are the most unlikely hero from the most unlikely ones. I love their story, their characters, and how they ended up together! The story is predictable, but I still had tons of fun reading it.
The Movie // ✰✰✰
Well, I can see why the movie became a beloved classic. It's charming and it's really good to see everything brought to life. Unfortunately, the movie does not have the same "fun" feeling as the book, as it condensed it into 1.5 hours and left out a lot of inner monologue- which even though it can be rambly, actually set the tone for the book. The short time cause the story to be condensed and the characters to be toned down. Buttercup is not as foolish, Rugen is not as cruel, and Fezzik is not as dependent, for example.
As the case with most adaptation, I prefer the book over the movie. It was a good movie, the humor was more pronounced, the scenes more dramatic (I really love the climbing of cliff of insanity and westley and buttercup falling from the hill scenes 😂😂😂), and Westley is even more swoon worthy, but it wasn't as fun as the book 😶
Have you seen the movie? Read the book? Or both? Which one do you like better?