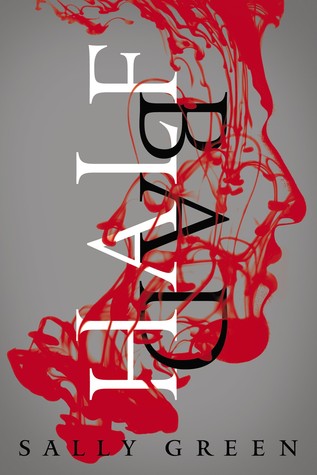 Half Bad
by Sally Green
Paperback, 394 pages
Published March 4th, 2014 by Viking Books for Young Readers
✰✰✰.5
Wanted by no one.
Hunted by everyone.
Sixteen-year-old Nathan lives in a cage: beaten, shackled, trained to kill. In a modern-day England where two warring factions of witches live amongst humans, Nathan is an abomination, the illegitimate son of the world's most terrifying and violent witch, Marcus. Nathan's only hope for survival is to escape his captors, track down Marcus, and receive the three gifts that will bring him into his own magical powers—before it's too late. But how can Nathan find his father when there is no one safe to trust, not even family, not even the girl he loves?
I find it hard to settle into this book at first. The second-person point of view threw me off because this is the first time I've ever read a book in this pov, both in english or bahasa. And it took me time to realize what was happening, that this is how second-person pov sounds like. But once I get used to it, the story became easier to flew through, especially since it only presents in the first part!
Another reason is because this story is so dark. Nathan has been treated unfairly throughout his life; he was watched, caged, starved, beaten, hunted, and hurt. He's so full of anger and pain that his thoughts can get pretty dark at times, it can be uncomfortable to read. Butt there are also some light in his life and I sympathize so much with Nathan, I want to capture those moments just like he did. Of course it can't be done, but it's amazing how much I could sympathize with him. I also love his relationship with his family (not you Jessica) and how despite everything, they are the one who grounds him. His constant search for his father is also interesting to read.
Despite having a hard times reading about him, I am also curious on a lot of things about Nathan and the world in general. I'm intrigued about the magic system in this world, and I wish it was explored more. I understand why we barely get anything here, but I wish we got something more. I am also curious about Marcus, whether he was evil or not, did he really looked for Nathan, etc etc.
The premise of this book revolves around good vs evil; from the epigraph to the constant reminder of "white witches are good, black witches are bad." Of course, the truth is not that simple, the white witches are cruel, while the blacks are…. well… cruel. My qualms is how the Whites is not what it seems, but the Blacks seem to be exactly like what people said: cruel, selfish, and blood thirsty. I would like to see the duality explored for both sides, hopefully in the next books!
Overall, I enjoyed this book. It was dark (sometimes too dark) but the characters are precious and the plot is intriguing. There are still a lot of things left to be discovered and revealed, so I will definitely be continuing the series!