As promised from my April Wrap Up, here's the first post on my hallyu series, which will highlight my favorite k-dramas, soundtrack, group, even tropes (✿◠‿◠)
I was initially inspired by Flavia who shared 10 K-dramas on her to-watch list and Savannah who listed her favorite K-pop music video. I always want to write a post on some of my hallyu favorites, but I don't know how many people are interested in reading it. When I mentioned it on the wrap up, Andreea and Ruzaika expressed their interest, and so here it is!
K-dramas have been a huge part of my life, I grew up watching them instead of disney channel and stuffs because they weren't here at that time. They usually airs in the afternoon, right after my school finish, so the rush to get out from the class was real guys, especially considering how each episodes tend to end with d r a m a t i c cliffhanger, so missing an episode is a huge no no.
Jewel in the Palace (Dae Jang Geum)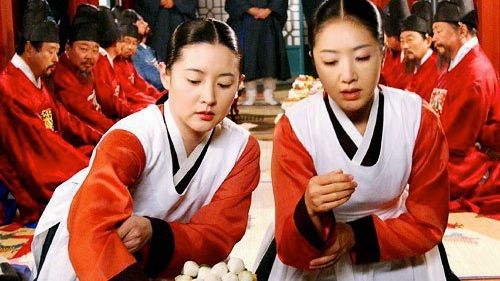 This is a must-watch classic for k-drama lovers out there, as this is the k-drama that started the k-drama fever within the hallyu wave. This is like the Tony Stark of MCU. Like other old dramas, it's pretty long, around 50-60ish episode. But don't let the length drove you away, it's sooo good! The story is heart breaking, like there are so many crying points in this drama, especially for poor little me. I mean, it is still one of the most-beloved drama and this drama definitely deserved the title.
The story is about real-life figure of Dae Jang Geum, the first female royal physician in Korea during the Joseon dynasty. She was an orphan who managed to get into the palace as cook (they started young) and there, she learned of intrigue, political plays, heartbreaking family secrets, and of course, medicine. The opening is just sooo iconic, my friends still sing along to it everytime it came up.
Princess Hours
After Jewel in the Palace, I think there were other k-dramas playing but the next that stayed in my mind is Princess Hours. I already forgot so many parts of this one, but I remember that this girl went to school with this Korean prince, and they haaated each other. Turns out, their grandfather were friends and an agreement was made where they have to marry each other!
Let me just say, if you love hate-to-love relationship, witty banter, and the cheesiness and emotional pull of K-drama, this is the perfect one. THIS IS IT. Even when I was looking for pictures for me to put, I smiled a lot because AHHH THE MEMORIES  (✿◠‿◠) i love love love it so much, it's killing me because the second one was bad😑
Boys Before Flowers
This is it. You can't really compile a list of favorite K-drama without having this drama on your list. This is the ones that truly rides the high wave of hallyu, during the golden era of Big Bang and Super Junior, the one that launched Lee Min Ho into superstardom.
In case you never heard it, this drama is basically one of many adaptations of Japanese comic, Hana Yori Dango (other adaptations include the taiwan super famous Meteor Garden, which I also love, and another K-drama, Cinderella and 4 Knights). The basic gist of the story is a gang of 4 suuuuper popular, rich, handsome etc etc boys that holds so much power wherever they are (highschool? company? whatever) and 2 of them competing for the same girl, which is poor and initially rude and resist these boys. These boys ended up being best friends with the girl and as mentioned above, a love triangle ensues. And it's always between the leader of the four and the brooding one.
I know my summary sounds sarcastic and annoyed, but honestly, I really enjoyed it. I loved it better than Meteor Garden, which is THE ULTIMATE classic in my country, since t-drama enters my country waaay before k-drama. I even have the CD and if my memory was right, a huge poster of Lee Min Ho at that time. Yes it's cheesy and dramatic (with the evil mother chaebol!!!) but hey, it became a classic for a reason! If you love The Heirs, you will love this one.
Dream High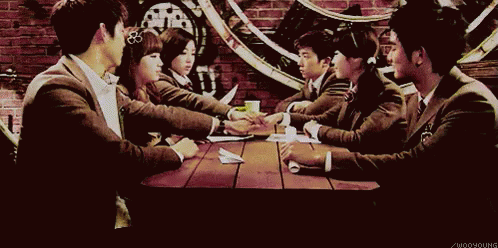 Aka the most underrated K-drama of all time????? It was pretty popular in Korea at that time but in my country there was barely a buzz. The premise is about a musical academy recruiting random talented teens to become a star. This drama introduces me (and the rest of the world I guess) to IU and Kim Soo Hyun. I mean, have you heard their rendition of Can't I Love You? (If you haven't, go watch it. I promise you won't regret it). It also introduces me to Taecyeon and Suzy, I always keep tabs on them after Dream High. Basically…. just watch it.
The Great Queen Seondeok
I think we already established the fact that I love historical things😂. But personally, this is my favorite sageuk I've ever watch. Unlike other dramas, this one set during the Goryeo period, in Silla. This introduces me to the three kingdoms era of Korea which is suupper interesting.
Other than the setting, what makes this drama so good? First of all is the costume, Goryeo seems to be more ~flowy~ and pleasing to me compared to Joseon. Second of all, as the title suggest, this drama is about Queen Seondeok, a real historical figure who managed to unite the three kingdom of Korea into one Korea. Admittedly, her life in this drama is dramaticized, but her courage and determination are so inspiring to watch! The third reason is Deokman/Bidam relationship. I honestly ship them together and for a while they are good together… until shit hits the fan. My heart still hasn't forgive the ending. The fourth reason is the main villain, Mishill, who is the definition of femme fatale. She's just so clever and scary, her performance is just outstanding because you can feel the change in the atmosphere when she's in the screen.
Descendants of the Sun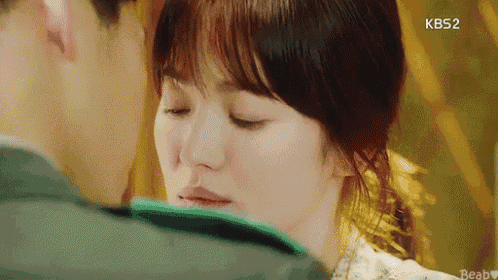 I bet you see this one coming, since I talked about this one A LOT. This one was pretty hyped up because it was Song Joong Ki comeback drama, it's been a while since Song Hye Kyo also been in a drama, and it is the first one I think that finished shooting before airing (usually they shoot as the drama airs). At first, I watched it because I was curious of what this is about but booooooy I got sucked deep.
This drama is about a romance between a soldier and a doctor, but mainly highlights how hard it is for life of a soldier and their families. There are a lot of danger, war, disasters, and other deathly occurence on almost all daily basis. The romance is sooo damn cheesy, but there are so many swoon-worthy moments (the wine kiss!!!) and bawling-my-eyes moment ("you rob us of our time together!" #neverforget). It was fun and games for 90% of the time, and then the last 2 episodes just hit you with SO MANY FEELS and your eyes just can't stop running and I had national exam at that time and I almost failed math for this damn drama.
Not to mention, SJK and SHK are really married in real life! Their chemistry was on fire on the drama, the whole world ship them together, so when the news of their relationship broke, it's like a party everywhere💗💗💗 The second romance is also so good, in fact if you love angst, this one will be the one that rip your heart and eyes out. Just… mind blowingly good. I can't even.
W: Two Worlds
Love some unique concepts? W will delights you! This one tells the story of Oh Yeon Joo, whose father is a famous artist for online web comics, W. One night, Yeon Joo was sucked into the webcomic and had to save W's main protagonist, Kang Chul. As Yeon Joo goes back and forth between the real world and comic, the two worlds clashes and some repercussions happened.
I mean sure, Lee Jong Suk is initially what attracted me to this k-drama, but the plot is really intriguing and addictve. As with other k-dramas, the romance is cheesy and overtook the plot during the second half of the drama, and while there are some frustrating moments, overall this is one of my favorites!
Strong Woman Do Bong Soon
This K-drama took the world by storm and I can say that it truly deserves it! It tells the story of Do Bong Soon, who has super strength. This super strength is inherited by all the female line in her family and disappear if the gods think they abuse it. It's refreshing to see the girl be the protector for a change, as girls in K-drama tend to be portrayed as weak/fragile. Anywaysss, other than the unique premise, this drama is SOOOO FUNNY. The #1 love interest, Min-hyuk, is such a drama queen! The romance is super cheesy but it's also kinda cute?? 🙈 There are several problematic aspect of this k-drama, such as the abusive mother attitude towards the father (which never really addressed) and the gay portrayal (but then again, south korea is intolerant with LGBT+ people) but overall, I really like it!
Love in the Moonlight
And the last one is Love in the Moonlight! This is also one of the recent one and tell the story of eunuch Hong Sam-nong*, which is actually a girl. She developed a hate, then friendship, then you guessed it, love with the Crown Prince. This drama is also very funny and has a lot of political intrigue, and I admit the plot lags considerably during the second half of the story to focus more on the romance. Buttt you can see how good Park Bo-gum looks in those royal attire acting is, his microexpressions is just 👌👌👌 You can tell Crown Prince's mood just by looking at his eyes or facial expressions.
*Fun fact: Kim Yoo-jung, the girl who portrayed Hong Sam-nong, also appeared on The Great Queen Seondeok and Princess Hours previously, when she was known as child-actress.
And that's all! Did I mention your favorites? Or did I miss your favorite? What are you currently watching?