Welcome to another top 5 wednesday! Top 5 Wednesday is a weekly meme hosted by the lovely Samantha and Lainey! You can check the group here for more discussions and topic.
May's topic is basically a freebie: we are all free to choose topics from past T5W prompts. I'm so happy as there are so many amazing topics I missed out in the past as I was late to the T5W party, and the fourth one of this month is from August 24th, 2016: books to read before the year ends.
Yes yes I know, I have this book since forever. From it's release, to it's movie announcement, and now, the movie is out this year and I still haven't read it. I have no excuse, except that I got distracted by other books  ¯\_(ツ)_/¯
Sixteen-year-old and not-so-openly gay Simon Spier prefers to save his drama for the school musical. But when an email falls into the wrong hands, his secret is at risk of being thrust into the spotlight. Now Simon is actually being blackmailed: if he doesn't play wingman for class clown Martin, his sexual identity will become everyone's business. Worse, the privacy of Blue, the pen name of the boy he's been emailing, will be compromised.
With some messy dynamics emerging in his once tight-knit group of friends, and his email correspondence with Blue growing more flirtatious every day, Simon's junior year has suddenly gotten all kinds of complicated. Now, change-averse Simon has to find a way to step out of his comfort zone before he's pushed out—without alienating his friends, compromising himself, or fumbling a shot at happiness with the most confusing, adorable guy he's never met.
THIS HALLOWEEN I PROMISE I WILL READ IT OKAY STOP JUDGING ME.
If you're wondering how many times this book has appear on my list… it's basically every halloween ever since its release *hides under the blanket forever in shame*
Forgive us, Father, for we have sinned
Brooklyn Stevens sits in a pool of her own blood, tied up and gagged. No one outside of these dank basement walls knows she's here. No one can hear her scream.
 
Sofia Flores knows she shouldn't have gotten involved. When she befriended Riley, Grace, and Alexis on her first day at school, she admired them, with their perfect hair and their good-girl ways. They said they wanted to save Brooklyn. They wanted to help her. Sofia didn't realize they believed Brooklyn was possessed.
 
Now, Riley and the girls are performing an exorcism on Brooklyn—but their idea of an exorcism is closer to torture than salvation. All Sofia wants is to get out of this house. But there is no way out. Sofia can't go against the other girls… unless she wants to be next….
I know I know. I also mentioned this book sooooo many times. What makes you believe I will read it this year?
The truth is, the only reason I haven't read this book is because I'm scared. I love Daughter of Smoke and Bone, but I am dissapointed with the rest of the series and I am afraid to face the same dissapointment with Strange the Dreamer. I'm afraid the writing will annoyed me. I'm afraid it will take too much of my time as it is SO THICK. But I really really want to read it and I am going to read it this summer.
The dream chooses the dreamer, not the other way around—and Lazlo Strange, war orphan and junior librarian, has always feared that his dream chose poorly. Since he was five years old he's been obsessed with the mythic lost city of Weep, but it would take someone bolder than he to cross half the world in search of it. Then a stunning opportunity presents itself, in the person of a hero called the Godslayer and a band of legendary warriors, and he has to seize his chance or lose his dream forever.
What happened in Weep two hundred years ago to cut it off from the rest of the world? What exactly did the Godslayer slay that went by the name of god? And what is the mysterious problem he now seeks help in solving?
The answers await in Weep, but so do more mysteries—including the blue-skinned goddess who appears in Lazlo's dreams. How did he dream her before he knew she existed? And if all the gods are dead, why does she seem so real?
Welcome to Weep.
My excuse was that I want to watch The Princess Bride first before I read this, as apparently this book has a lot of references towards it? But now I've watch the movie AND read the original book I have no other excuse other than I am super busy and overwhelmed with life.
This summer guys, I promise you.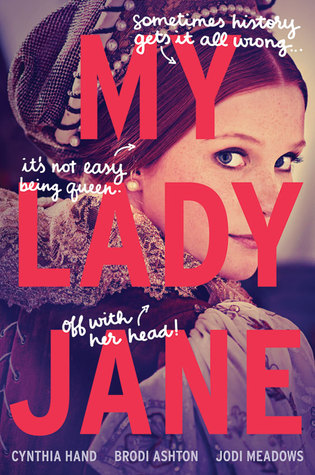 Edward (long live the king) is the King of England. He's also dying, which is inconvenient, as he's only sixteen and he'd much rather be planning for his first kiss than considering who will inherit his crown…
Jane (reads too many books) is Edward's cousin, and far more interested in books than romance. Unfortunately for Jane, Edward has arranged to marry her off to secure the line of succession. And there's something a little odd about her intended…
Gifford (call him G) is a horse. That is, he's an Eðian (eth-y-un, for the uninitiated). Every day at dawn he becomes a noble chestnut steed—but then he wakes at dusk with a mouthful of hay. It's all very undignified.
The plot thickens as Edward, Jane, and G are drawn into a dangerous conspiracy. With the fate of the kingdom at stake, our heroes will have to engage in some conspiring of their own. But can they pull off their plan before it's off with their heads?
Aaaaand another familiar faces in this list. Again, no excuse except that it's thick and it intimidates me. And I hate Lila Bard, sue me ¯\_(ツ)_/¯
It has been four months since a mysterious obsidian stone fell into Kell's possession. Four months since his path crossed with Delilah Bard. Four months since Prince Rhy was wounded, and since the nefarious Dane twins of White London fell, and four months since the stone was cast with Holland's dying body through the rift–back into Black London.
Now, restless after having given up his smuggling habit, Kell is visited by dreams of ominous magical events, waking only to think of Lila, who disappeared from the docks as she always meant to do. As Red London finalizes preparations for the Element Games–an extravagant international competition of magic meant to entertain and keep healthy the ties between neighboring countries–a certain pirate ship draws closer, carrying old friends back into port.
And while Red London is caught up in the pageantry and thrills of the Games, another London is coming back to life. After all, a shadow that was gone in the night will reappear in the morning. But the balance of magic is ever perilous, and for one city to flourish, another London must fall.
Me elsewhere
Twitter || Bloglovin || Goodreads
Any books you've been wanting to read for so long but never actually does?