I'M SMILING SO HARD RIGHT NOW.
I forgot how much I love this world and characters! It's been a long time since the last time I touch a potter book (the last time being DH release) and even then, I read the translated version. Reading the english version for the first time almost felt like experiencing the magic for the first time again, which is amazing. It baffles me how new the story felt; despite knowing what happened next, I still rush through the book because I can't wait what happened next because I felt like reading a new book with the language difference.
I never realized how sassy Harry is! He delivered quite a number of sass, burns, and quips to made me laughed out loud. I really enjoyed feeling in awe of Hogwarts, everything felt brand new and the description made me feel like I am wandering the castle with Harry; it's just so atmospheric! I also have a lot of feelings about other characters: respect towards Dumbledore, hatred towards Filch and Draco, even annoyance towards Hermione at first! I mean, movie!Hermione was pretty annoying at first, but she really was a know-it-all in this book 😬 It's really amazing for a children's book with such a fun vibe, HP managed to have some serious underlying tones such as love and dark power, but the most obvious, Harry's longing towards a family and making a name by his own. I love love love it and I should reread this series more often!
Rating: ✨✨✨✨✨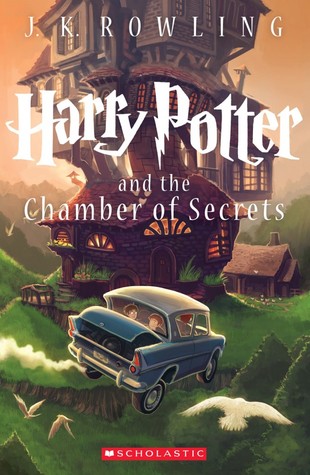 Ahh I feel bad I didn't enjoy this one as much as the first, but with a series that has 7 books in it, obviously there will be some books you are bound to not enjoy right??
This one felt more darker and slower than the previous one, Harry is not discovering the wizarding world anymore so there's no ~new wonder~ feeling about it anymore, except when he was in The Burrow. It's my favorite part of the books because a) discovering how the magical people live and b) the weasleys! It's also really fun reading how even Hermione is not immune to Lockhart's charms, if I were Ron or Harry, I wouldn't let her live it down 😂 The rest of the book felt really long, and while the last three chapters were great, it felt like a really quick fight when compared to the whole book build up.
Not really related, but I saw some tumblr post pointing out Draco ripping a paper out from a book in Flourish & Blotts in the movie scene and people are ~convinced~ he gave it to Hermione because, hey, it's Hermione!!! Why would she rip off a library book?? As a Dramione shipper, I really enjoyed this theory, however Hermione did rip the book and carry the paper when she was petrified in the book, so sadly fellow Dramione shippers, that is not the proof we are looking for.
I can't wait to read PoA because it's my favorite book and movie, I hope my feelings are still the same!
Rating: ✨✨.5

Sadly, despite the movie being my favorite, the book is definitely my least favorite out of the first 4.
Reading this book really made me realize how much the movie toned down the character's behavior because, well…. reading the book made me feel like they are magnified 10x times or something. Harry is too nosy and strongheaded for his own good, Ron, knowing how much danger Sirius Black is, and how much everyone try to keep Harry alive, encourages this behaviour. It's a wonder how they survive 7 years of Hogwarts while always running head first into danger without care of the consequences.
On the other hand, Snape is really nasty in this book. Like, VERY nasty. But then again, seeing your past tormentor together with the child of your enemy (who looks like his splitting image) may be too much to handle. Especially in the end, that is the nastiest version of Snape I've read in this first 4 books. Draco Malfoy is also made me want to smack him with a dictionary for being so insufferable all the time.
Really, the movie is being too nice with them.
But let's talk about the man himself, the prisoner of Azkaban, Sirius Black. SIRIUS BLACK IS AMAZING and I cried a lot bc I know what fate awaits him *sobs* I can't even read the chapter where they leave the Shrieking Shack, Sirius reminincing about his school days, and offering Harry too live with him. It's just too happy, too hopeful, too bright; knowing what's coming for them really makes my heart hurts.
Despite being my least favorite book in the series so far, this book already inspired 3 Potter-themed discussions for July so it's not all bad 😉
Rating: ✨✨

Despite being put off by the sheer size of this book, GoF ended up being my second favorite in the series. It is really fast paced, even when there is no action, there is always something. From celebrations, to terror, to intrigue… it's just really fun to read!
Other reason why this book is one of my favorite is because of the celebratory mood throughout the book. I think I can safely say that JKR is really gifted with words; her setting is just so atmospheric and it's so easy to sympathize with Harry's feelings. From Quidditch World Cup, to Triwizard Tournament, to the Yule Ball… this book has A LOT to celebrate for!
The negative is, this book really seals the deal for Ron to me. I didn't like him because he's even more impulsive than Harry AND he encourages Harry's impulsive behavior. He can't go out at night? Why the heck not Harry you have the map and invisibility cloak????
Well maybe NO because there's always someone targeting the famous Harry Potter??? How about that Ron???
He's also ignorant (99% of the time when someone is passing important information, Ron's response is "so what?), very hot-headed, and jealous. I'm not a Romione shipper so I don't find his jealousy cute, especially how horrible he was with her last year. It's super unfair how he can have a crush towards Fleur but he ruins Hermione night only because she went with Viktor- even though he IS  Viktor fan! And then, being jealous of Harry? That guy lost everything! And anyway, it's not like he tries harder to be famous, which something that really irks me. Harry is famous yes, but Hermione is also famous- for being the brightest witch. And despite that, she still continues to study! Ron… well he doesn't do anything other than sulking and glaring if someone comes near to Harry and Hermione 😠
*deeps breath*
Anyways, I love how much more information about Voldemort we got in this book. In a way, this is a turning point of the series. Cedric's death marks Voldemort's return and with it, the stories got darker as the war became nearer. In a way, it is a fun book, but it is also the last time Harry will be truly happy.
Now time to move on to book 5, where a certain death really scarred me.
Rating: ✨✨✨✨.5
Which book is your favorite? Which book is your least favorite? Do you prefer the movies or the books?