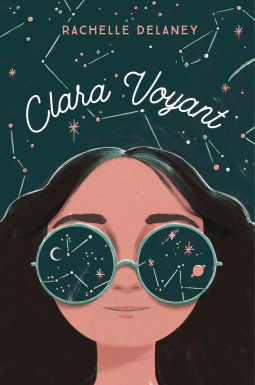 Clara Voyant 
by Rachelle Delaney
E-ARC, 224 pages
Published May 15th, 2018 by Puffin Canada
⭐⭐⭐⭐
Clara can't believe her no-nonsense grandmother has just up and moved to Florida, leaving Clara and her mother on their own for the first time. This means her mother can finally "follow her bliss," which involves moving to a tiny apartment in Kensington Market, working at a herbal remedy shop and trying to develop her so-called mystical powers. Clara tries to make the best of a bad situation by joining the newspaper staff at her new middle school, where she can sharpen her investigative journalistic skills and tell the kind of hard-news stories her grandmother appreciated. But the editor relegates her to boring news stories and worse . . . the horoscopes.
Worse yet, her horoscopes come true, and soon everyone at school is talking about Clara Voyant, the talented fortune-teller. Clara is horrified–horoscopes and clairvoyance aren't real, she insists, just like her grandmother always told her. But when a mystery unfolds at school, she finds herself in a strange situation: having an opportunity to prove herself as an investigative journalist . . . with the help of her own mystical powers.
I received an e-copy of this book from Netgalley in exchange for an honest review.
It's been a while since I read middle grade, I don't think I've read any this year (HP doesn't count). So when I saw Clara Voyant, I was intrigued with its dreamy cover and cute premise. And tbh, I miss reading middle grade; they are adorable and less complex and usually more harmless for my poor heart. It knows how much pain I inflicted on it by reading about unrequited romance and my faves dying.
Anyways, Clara Voyant delivers exactly what it promises! The story is cute and fun, about young Clara who dreams of becoming a journalist, only to be stuck writing horoscopes for her school newspaper. She lives with her mother who believes in ✨ magical stuff ✨, total opposite from her no-nonsense grandmother. All Clara wants is a normal life and proves her writing ability to her editor, but as her horoscopes come true, she found herself harder and harder to achieve the normalcy she desires.
Clara's situation is relatable: she's stuck doing assignments she hated, and with a parent who doesn't understand her. She tried her best, but nobody seems to be listening. But despite the situation, she doesn't give up and tried to see what she could do about it. Sure, she whines, but that doesn't mean she stop trying. Her relationship with her mother, Gaby, is a complicated one, but along the way, you can see how similar they actually are. There are other side characters too and while they are not as fleshed out as Clara and Gaby are, they make a fun ensemble and I don't mind reading books about them.
This plot of this book is pretty simple, but the "does she has a magical power or not" aspect makes it more interesting. The pacing is perfect for the story to unfolds naturally, and the writing really fits the book. It makes me able to read this book really quickly, which is refreshing since for some reason, all the books in my tbr has been on the slow-paced side. I admit the resolution felt too convenient and easy, but considering the intended audience, it can work really well with the story. It also contains a bonus at the end of the book- Clara's horoscope to predict your future!
Just like its cover, Clara Voyant is a fun and cute read. The story unfolds naturally and the characters are all well-developed; even the side characters are interesting. The author already wrote several MG books before, so I'm looking forward to check out more of her works!
Have you read Clara Voyant? Do you believe in horoscopes? What's your sign?