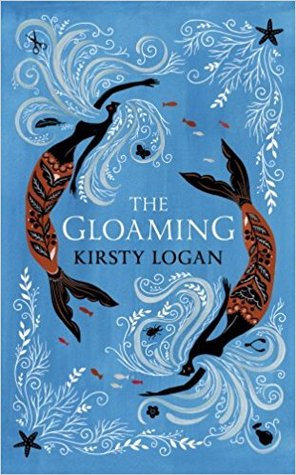 The Gloaming
by Kristy Logan
E-ARC, 256 pages
Published April 19th 2018 by Harvill Secker
✰✰✰
Mara's island is one of stories and magic. She knows she'll eventually end her days atop the cliff, turned to stone and gazing out at the horizon like all the villagers that went before her, drawn by the otherworldly call of the sea. Her whole family will be there too, even her brother Bee and her sister Islay.
But the island and the sea do what they want, and when they claim a price from her family, Mara's world changes forever.
As years pass and Mara grows into herself and her scars, a chance meeting with the magnetic Pearl brings magic to life once more in ways that Mara never thought possible, in a story that she never would have dreamed for herself before.
The enchanting spiritual prequel to The Gracekeepers, Kirsty Logan's The Gloaming is a present-day fable that brims over with dazzling imagination and captivating language.
I received an e-ARC for this book from Netgalley in exchange for an honest review.
Magical realism has long been a genre that I have a complicated relationship with. The normal setting grounds me while reading, but at the same it makes it hard to imagine the magical aspect of the book. They also tend to be slower paced and have flowery writing, something that often brings a book down for me. But lately I've been reading a lot of magical realism, the latest one is The Gloaming. I didn't know that it was a prequel to The Gracekeepers, but they seem to have no connection. I initially plan to read The Gracekeepers first as I have it on my TBR, but I decided against it and to read The Gloaming first.
The story sets in an island somewhere in Scotland, where magic seems to happen as people will turn to statues when they died. When their time is near, their movements will become harder and eventually, they trek up into the hill to be with other stone statues, accompanied by the whole island populations. The Ross family is where the story centered; they just moved to the island and they are trying to repair their home and built an inn.  They live an idyllic life where the children are free to roam and the family is full of love, but when a tragedy strikes, everything fell apart and the family are too wrapped up in their own grief to be there for each other.
I have a mixed feelings for this book. On one side, it was an achingly beautiful story. It doesn't really have a linear timeline, and the family is the main character. So one chapter we can tell the story of Mara, the second daughter, in the present, then jump to Signe, the mother, in the past. As a character driven book, we got to see their hopes and dreams before the tragedy, and how it all seemed to be sucked away afterwards. We felt their grief and loss, and in the heart of it, is Mara. Mara, who tried to figure things out and tried to keep her family together, but at the same time just want to get away and start anew. We got to know each character better and understand them. I really root for all of them and wish them all the happiness it could afford.
Yet at the same time, the plot is very thin, it was barely there. The jumping timeline and characters are also really confusing when I was reading it, all just very disjointed. There were so many times I almost DNF this book because I just couldn't understand the point of the story or where is it heading. The last few chapters is where the puzzle pieces clicking into place and upon seeing the large picture, is where I grew to appreciate the book. But by then, it was too late already as the lost feelings I felt for the most part just won't get away. It might be a genius move, of how the authors managed to weave the story like that, but I don't think it's a storytelling way that I could enjoy and appreciate.
The Gloaming is a sad, but also beautiful book. Unfortunately, I have to say that it isn't for me. I spent too much of my time feeling lost and trying to make sense of the story and as the result, I was unable to enjoyed it as much as I hoped to. I root for the characters and felt for them, but at the same time, also felt disconnected from them. If you're looking for a poignant story, this book is for you. But if you're looking for some more substances and plot like I did, this book wouldn't really work for you.