Welcome to another top 5 wednesday! Top 5 Wednesday is a weekly meme hosted by the lovely Samantha and Lainey! You can check the group here for more discussions and topic.
According to goodreads, I've read 689 books during my 20 years of life. That's quite an achievement, and it also means that I've lived 689 book-lives. After reading so many books, there are bound to be things I like and I don't like about them. Despite my taste keeps evolving, it's easier to know which books I'd enjoy and which ones I should stay away from. But it's not always straightforward, and there are some books that despite have all the red flags for me, turned out to be my favorites. Today I'm going to talk about 3 of my most hated tropes and 5 books that defy that taste.
Love Triangle
Let's start with the most popular yet also hated trope of them all, the love triangle. Done correctly, they can torn your heart out and create some good angst romance. However, it is more often done incorrectly, where both interest can't stop throwing themselves at our MC and don't let the MC make her choices. And said MC can't concentrate on whatever crisis they are saving and instead keep thinking "A or B????"
However, there are two series that execute this trope really well: The Infernal Devices by Cassandra Clare and Splintered by A.G. Howard. The main characters found themselves between two men, yet they are capable to keep their wits intact to solve the problems at hand. Morpheus in Splintered is manipulative af, but ultimately, he would do anything to ensure Alyssa's happiness. In The Infernal Devices, the pain is intensifies because both guys, Will and Jem, are parabatai- meaning they are bonded lifetime partner. As the result, the pain is not about who will Tessa choose, but how to give the girl up to spare their parabatai from the pain.
Alpha Male
YA paranormal is like a classic of modern YA, it helps the early genre thrive. There are so many creatures to choose from and so many ways the story could progress. However, they are also a pretty dark times, especially the early ones, because 99% of the love interest is a possessive, controlling, extremely jealous boyfriend.
Seeing them everywhere normalize this trope for me so like everyone else, I fell in love with them too. Who doesn't love a bit of messy, dark hair, deep eyes, leather jacket, and motor cycle??? So it was no wonder that I fell in love with Patch Cipriano from Hush Hush by Becca Fitzpatrick. He is the only one I can think of when it comes to alpha male and book I liked in one category. Maybe because his protective-ness has reasons?? I mean there are moments where he is just plain tropey but other times he did save the Nora's life ¯\_(ツ)_/¯
Catty Ex-Girlfriend
Ah yes. From the dawn of time until now, it's sad that authors still use girl-on-girl hate. Especially if the girls are fighting over a guy. The things girls will do to each other… from public humiliation to literally destroying the new girl's life.
Thankfully we don't have much of this trope going around lately, at least not in the books I've read. There are some that I actually enjoyed though, which are The Vampire Diaries series by L.J Smith and To All The Boys I've Loved Before by Jenny Han. In To All the Boys, the ex girlfriend was Lara Jean's childhood best friend and if you keep reading, the bitterness she felt towards Lara was understandable because… well, it was Lara's fault. Meanwhile, TVD takes this trope to another level. In the book, Katherine was a psychopath even before she faked her death. She was nice, initially, but then she turned all evil and killed everyone. She's slightly better in the TV series and come out more as the "bad girl has more fun" type of characters. It's really good tbh.
But still: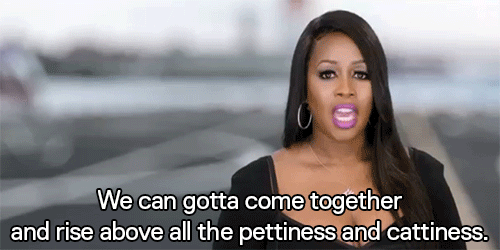 So tell me: is there any books you enjoyed with the trope you dislike?