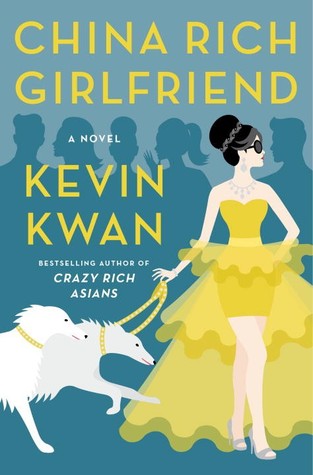 China Rich Girlfriend
by Kevin Kwan
E-book, 400 pages
Published June 16th, 2015 by Doubleday
✰✰✰✰.5
Kevin Kwan, bestselling author of Crazy Rich Asians, is back with a wickedly funny new novel of social climbing, secret e-mails, art-world scandal, lovesick billionaires, and the outrageous story of what happens when Rachel Chu, engaged to marry Asia's most eligible bachelor, discovers her birthfather.

On the eve of her wedding to Nicholas Young, heir to one of the greatest fortunes in Asia, Rachel should be over the moon. She has a flawless Asscher-cut diamond from JAR, a wedding dress she loves more than anything found in the salons of Paris, and a fiancé willing to sacrifice his entire inheritance in order to marry her. But Rachel still mourns the fact that her birthfather, a man she never knew, won't be able to walk her down the aisle. Until: a shocking revelation draws Rachel into a world of Shanghai splendor beyond anything she has ever imagined. Here we meet Carlton, a Ferrari-crashing bad boy known for Prince Harry-like antics; Colette, a celebrity girlfriend chased by fevered paparazzi; and the man Rachel has spent her entire life waiting to meet: her father. Meanwhile, Singapore's It Girl, Astrid Leong, is shocked to discover that there is a downside to having a newly minted tech billionaire husband.
A romp through Asia's most exclusive clubs, auction houses, and estates, China Rich Girlfriend brings us into the elite circles of Mainland China, introducing a captivating cast of characters, and offering an inside glimpse at what it's like to be gloriously, crazily, China-rich.
These people aren't just everyday rich with a few hundred million. They are China rich!
Crazy Rich Asians will always have a special place in my heart. I read it years ago, and it was the first mainstream book I've read with Asian characters and traditions. I fell in love with it, but since it's an adult book, I decided to give myself some time before reading the next book. Except "some time" turns into almost 3 years. I am super hyped up for the movie and being swept up in the euphoria, I finally decided to read China Rich Girlfriend!
The Chinese did not hold back. At all. 
If you think the Singaporeans were crazy in spending their money, you will rethink that statement and everything you know about money when you see how the Chinese spent their money. From properties, jets, cars, to rooms full of Hermes, it's possible that they are richer than the Youngs. I can't even imagine being that rich and it gives me a headache for all the brands mentioned.
I love all the extraness and pettiness in this book.
If you've read the books or at the bare minimum saw the trailer, you know how extravagant and extra the story is. This book takes it to another level, the drama in this book are so over the top and unnecessary, it's hilarious!
Comparing the Chinese and the Singaporeans
It's hard to try to not compare the lifestyle of the Chinese and Singaporeans while reading this book. The Chinese are not shy in flaunting their riches, they also tend to coddle their children. Meanwhile the Singaporeans such as the Youngs are more discreet and their offspring tend to have a job on their own and they are good at it. Sure, they must've used their connection to secure the job, but they can't be famous if they are not good at their job. One thing they have in common, they will always take home leftovers and would rather walk that pay valet!
Astrid is still my favorite character from this series. In the midst of all this crazy spending, private jet-setting, and couture fiesta, her character felt the most genuine with honest problem. She's down to earth and doesn't really care about gaining the spotlight, all she wanted is to have a family. I feel so bad for her, I can't believe how much Michael has changed.
Nick and Rachel are so cute together! They look out for each other and very supportive. They are basically the perfect couple, but I do feel that Rachel is too nice/naive for her own good.
I was initially by Kitty and wasn't really interested in her story, but I ended up warming to her at the end of the book. There are just more to her story and character, I can't wait to read more in Rich People Problems!
THIS IS SO RELATEABLE, I FEEL SO ALIVE.
I never thought I'd read the words "gongheifatchoy-ing the hell out of each other" in a book, but here we are. And it's not the only time I felt so related and understood, there are paragraphs explaining the tradition of Chinese New Year, grave cleaning ceremony, and the importance of family. And let's not forget this amazing Asian-mother comeback:
What do you mean, 'boundaries?' You came out of my vagina. What kind of boundaries do we have?
There is a reason why this series is so popular. It shows the Asians in a way western culture never see us; instead of being poor and stiff, we are the rich and powerful and full of drama. We can be a Kardashian or Real Housewives too. Futhermore, at the heart of the story, it's all about family. It's about Nick and Carlton's relationship with their mother, Astrid with her husband, Rachel with her father, and Colette with her parents. And let's not forget the Young, T'sien, Cheng huge family axis, it gave me a headache. Honestly, I don't have much to say about this book other that it's very fun and enjoyable to read; I can't wait to watch the movie and read the conclusion to their story!