Welcome to another top 5 wednesday! Top 5 Wednesday is a weekly meme hosted by the lovely Samantha and Lainey! You can check the group here for more discussions and topic.
This week's topic is top 5 magic system. Even though I've read and seen fantasy books and movies, I believe I never listed or even stop to think about my favorite magic system. This is evident as it took so long to gather 5 unique fantasy system, that is not harry potter and percy jackson. But I did find them, so without further ado, let's jump right in!
A Darker Shade of Magic
I don't really remember a lot about this book as I've read it years ago, however, I really remember liking the magic system! In this series, there are 4 londons: Red where magic is flourishing, grey is our ordinary london, white where it is controlled by those in power, and black, where the world is dead and burned due to the magic. I didn't really remember the details about the magic system, but I remember the concept of Antari, blood magic, and of course, As Travars.
Kell is one of the last Antari—magicians with a rare, coveted ability to travel between parallel Londons; Red, Grey, White, and, once upon a time, Black. 
Kell was raised in Arnes—Red London—and officially serves the Maresh Empire as an ambassador, traveling between the frequent bloody regime changes in White London and the court of George III in the dullest of Londons, the one without any magic left to see.
Unofficially, Kell is a smuggler, servicing people willing to pay for even the smallest glimpses of a world they'll never see. It's a defiant hobby with dangerous consequences, which Kell is now seeing firsthand.
After an exchange goes awry, Kell escapes to Grey London and runs into Delilah Bard, a cut-purse with lofty aspirations. She first robs him, then saves him from a deadly enemy, and finally forces Kell to spirit her to another world for a proper adventure.
Now perilous magic is afoot, and treachery lurks at every turn. To save all of the worlds, they'll first need to stay alive.
Compulsion
Set in a southern gothic plantation, this book follows the descendant of the three finding families of Watson island. Each families carry a special gift, or a curse, related to their origin and events happened during the founding era. I really love how the gifts are shown in their both sides of curse and blessings and how it ties with a folktales in the island.
Three plantations. Two wishes. One ancient curse.
All her life, Barrie Watson has been a virtual prisoner in the house where she lives with her shut-in mother. When her mother dies, Barrie promises to put some mileage on her stiletto heels. But she finds a new kind of prison at her aunt's South Carolina plantation instead—a prison guarded by an ancient spirit who long ago cursed one of the three founding families of Watson Island and gave the others magical gifts that became compulsions.
Stuck with the ghosts of a generations-old feud and hunted by forces she cannot see, Barrie must find a way to break free of the family legacy. With the help of sun-kissed Eight Beaufort, who knows what Barrie wants before she knows herself, the last Watson heir starts to unravel her family's twisted secrets. What she finds is dangerous: a love she never expected, a river that turns to fire at midnight, a gorgeous cousin who isn't what she seems, and very real enemies who want both Eight and Barrie dead. 
The Grisha Trilogy
Honestly, I don't know whether the grisha's power counts as magic or power as in X-men. Basically, in the Grishaverse, especially in Ravka, there are special people who have power known as the Grisha. They are divided into four groups: corporalki, etherealki, materialki, and of course the special of the special, The Darkling. They used to, and in some places is, hunted because of their powers, but now they are part of Ravka's elite soldier.
Surrounded by enemies, the once-great nation of Ravka has been torn in two by the Shadow Fold, a swath of near impenetrable darkness crawling with monsters who feast on human flesh. Now its fate may rest on the shoulders of one lonely refugee.
Alina Starkov has never been good at anything. But when her regiment is attacked on the Fold and her best friend is brutally injured, Alina reveals a dormant power that saves his life—a power that could be the key to setting her war-ravaged country free. Wrenched from everything she knows, Alina is whisked away to the royal court to be trained as a member of the Grisha, the magical elite led by the mysterious Darkling.
Yet nothing in this lavish world is what it seems. With darkness looming and an entire kingdom depending on her untamed power, Alina will have to confront the secrets of the Grisha . . . and the secrets of her heart.
The Raven Cycle
Even though I was confused 98% of the time and creeped out by Cabeswater, the concept of magic in this world is so interesting. There is give and take, so it's a trade instead of zapping your energy. Even though the consequences are not seen immediately, the magic you use affect the balance in some way.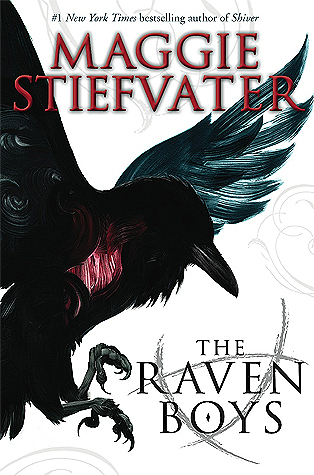 "There are only two reasons a non-seer would see a spirit on St. Mark's Eve," Neeve said. "Either you're his true love . . . or you killed him."
It is freezing in the churchyard, even before the dead arrive.
Every year, Blue Sargent stands next to her clairvoyant mother as the soon-to-be dead walk past. Blue herself never sees them—not until this year, when a boy emerges from the dark and speaks directly to her.
His name is Gansey, and Blue soon discovers that he is a rich student at Aglionby, the local private school. Blue has a policy of staying away from Aglionby boys. Known as Raven Boys, they can only mean trouble.
But Blue is drawn to Gansey, in a way she can't entirely explain. He has it all—family money, good looks, devoted friends—but he's looking for much more than that. He is on a quest that has encompassed three other Raven Boys: Adam, the scholarship student who resents all the privilege around him; Ronan, the fierce soul who ranges from anger to despair; and Noah, the taciturn watcher of the four, who notices many things but says very little.
For as long as she can remember, Blue has been warned that she will cause her true love to die. She never thought this would be a problem. But now, as her life becomes caught up in the strange and sinister world of the Raven Boys, she's not so sure anymore
Daughter of Smoke and Bone
In Daughter of Smoke and Bone, Karou lives with 4 chimaeras, where they collect teeth and those teeth can grant wishes. Different teeth has different power, and those wishes are not permanent. However, these teeth aren't the one granting wishes. Pain is the currency, and the makers infused the pain and its magic to the teeth.
So yeah, it's creepy, but also fascinating to me. Not to mention the raising-the-dead-through-new-body business.
Errand requiring immediate attention. Come.
The note was on vellum, pierced by the talons of the almost-crow that delivered it. Karou read the message. 'He never says please', she sighed, but she gathered up her things.
When Brimstone called, she always came.
In general, Karou has managed to keep her two lives in balance. On the one hand, she's a seventeen-year-old art student in Prague; on the other, errand-girl to a monstrous creature who is the closest thing she has to family. Raised half in our world, half in 'Elsewhere', she has never understood Brimstone's dark work – buying teeth from hunters and murderers – nor how she came into his keeping. She is a secret even to herself, plagued by the sensation that she isn't whole.
Now the doors to Elsewhere are closing, and Karou must choose between the safety of her human life and the dangers of a war-ravaged world that may hold the answers she has always sought.
What are your favorite magic system?