Welcome to another top 5 wednesday! Top 5 Wednesday is a weekly meme hosted by the lovely Samantha and Lainey! You can check the group here for more discussions and topic.
As you may or may not already notice, it has been quiet here for a week or so. The reason is last week I've been really busy and barely had time to think about any blog post. Technically, I'm still on a semi-hiatus, but I've been popping then and now and just think to participate in this week's top 5 wednesday. This week's topic is 5 books I want to read before 2019, sounds like a perfect topic to get my reading list prioritized!
I'm currently a couple pages in for this one, and I really loved it! It's only the beginning but it's already so over the top with department of defense and foreign control involved 😂 I can't wait to finally finish this series!
When Nicholas Young hears that his grandmother, Su Yi, is on her deathbed, he rushes to be by her bedside–but he's not alone. It seems the entire Shang-Young clan has convened from all corners of the globe, ostensibly to care for their matriarch but truly to stake claim on the massive fortune that Su Yi controls. 
With each family member secretly fantasizing about getting the keys to Tyersall Park–a trophy estate on 64 prime acres in the heart of Singapore–the place becomes a hotbed of intrigue and Nicholas finds himself blocked from entering the premises. 
As relatives claw over heirlooms, Astrid Leong is at the center of her own storm, desperately in love with her old sweetheart Charlie Wu, but tormented by his ex-wife–a woman hell bent on destroying Astrid's reputation and relationship. Meanwhile Kitty Pong, married to billionaire Jack Bing, finds a formidable opponent in his fashionista daughter, Colette.
I didn't get to it in October, but I really want to get to this book before the year ends! It's been raining a lot here, so it's just down to finding the time to actually read this book.
Enter the players. There were seven of us then, seven bright young things with wide precious futures ahead of us. Until that year, we saw no further than the books in front of our faces.
On the day Oliver Marks is released from jail, the man who put him there is waiting at the door. Detective Colborne wants to know the truth, and after ten years, Oliver is finally ready to tell it.
Ten years ago: Oliver is one of seven young Shakespearean actors at Dellecher Classical Conservatory, a place of keen ambition and fierce competition. In this secluded world of firelight and leather-bound books, Oliver and his friends play the same roles onstage and off: hero, villain, tyrant, temptress, ingénue, extra. But in their fourth and final year, the balance of power begins to shift, good-natured rivalries turn ugly, and on opening night real violence invades the students' world of make believe. In the morning, the fourth-years find themselves facing their very own tragedy, and their greatest acting challenge yet: convincing the police, each other, and themselves that they are innocent.
One final book before I finish my HP reread! ✨ Or I may give in actually read The Cursed Child.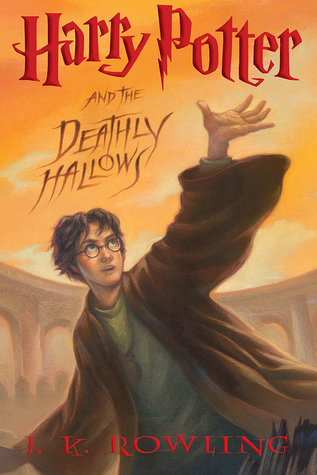 Harry Potter is leaving Privet Drive for the last time. But as he climbs into the sidecar of Hagrid's motorbike and they take to the skies, he knows Lord Voldemort and the Death Eaters will not be far behind.
The protective charm that has kept him safe until now is broken. But the Dark Lord is breathing fear into everything he loves. And he knows he can't keep hiding.
To stop Voldemort, Harry knows he must find the remaining Horcruxes and destroy them.
He will have to face his enemy in one final battle.
I love Neil Gaiman's books so I don't even know why I didn't read more of his works! If I didn't get to this one in November, I aim to read Stardust in December.
Neil Gaiman, long inspired by ancient mythology in creating the fantastical realms of his fiction, presents a bravura rendition of the Norse gods and their world from their origin though their upheaval in Ragnarok. 
In Norse Mythology, Gaiman stays true to the myths in envisioning the major Norse pantheon: Odin, the highest of the high, wise, daring, and cunning; Thor, Odin's son, incredibly strong yet not the wisest of gods; and Loki—son of a giant—blood brother to Odin and a trickster and unsurpassable manipulator.
Gaiman fashions these primeval stories into a novelistic arc that begins with the genesis of the legendary nine worlds and delves into the exploits of deities, dwarfs, and giants. Through Gaiman's deft and witty prose, these gods emerge with their fiercely competitive natures, their susceptibility to being duped and to duping others, and their tendency to let passion ignite their actions, making these long-ago myths breathe pungent life again.
I did mention of wanting to finish Shades of Magic series this year right? Well, it may not happen, but I do want to read the second book before the year ends!
It has been four months since a mysterious obsidian stone fell into Kell's possession. Four months since his path crossed with Delilah Bard. Four months since Prince Rhy was wounded, and since the nefarious Dane twins of White London fell, and four months since the stone was cast with Holland's dying body through the rift–back into Black London.
Now, restless after having given up his smuggling habit, Kell is visited by dreams of ominous magical events, waking only to think of Lila, who disappeared from the docks as she always meant to do. As Red London finalizes preparations for the Element Games–an extravagant international competition of magic meant to entertain and keep healthy the ties between neighboring countries–a certain pirate ship draws closer, carrying old friends back into port.
And while Red London is caught up in the pageantry and thrills of the Games, another London is coming back to life. After all, a shadow that was gone in the night will reappear in the morning. But the balance of magic is ever perilous, and for one city to flourish, another London must fall.
What are some books you want to read before 2019?