Hi guys! Just another quick post I write in a spur of a moment. I saw this tag at Destiny's blog and decided immediately that I want to do it. I don't branch out often from my usual genre, so this tag will be perfect to see how much I've actually read outside of YA fantasy.
The tag is created by Emma @ emmmabooks on youtube, and has only 1 rule:
You have to pick ONE GENRE that you frequently read about… and then, you can't use ANY books from that genre while answering the questions!
You guess it, my genre of choice to be excluded is YA fantasy. Let's see how many prompts I can answer then!
01. A book that is an exception when it comes to genres or elements you don't typically like:
Outlander by Dianna Gabaldon. I don't like overly descriptive books, over 500 pages books, and a sex scenes. This book has them all, and yet I really enjoyed reading it. I admit I won't be continuing the series, but it's more of too much time investment (each book is 700+ pages) rather than me not enjoying it. And tbh, I'll probably reread it somewhere down the line.
02. A book you enjoyed from a genre you previously held some stigma against:
If you've been following me for a while, you know that New Adult is not my genre and I've been avoiding the genre like a plague, for reasons I would explain below. However, Summer Skin by Kristin Eagar is an exception for me. It has sex yes, but they keep it to a minimal. Instead, it deals more with sisterhood, feminism, and sex positivity- something I've been looking for in NA.
03. A book you didn't know was out of your comfort zone until you started reading it:
Basically almost all the books in the NA genre. When I heard about the genre, I expected it to be a genre where teenagers are at the age where they have to navigate life: moving out of the house, first job, paying taxes, living abroad, etc etc. But what I get is a lot of sex :') I honestly understand that sex is a huge part of someone's life, I truly do. I mean, we have that in YA too. But NA seems to be taking it to another level with sexual tensions happening in the first chapters and sex/sexy times scenes every chapter or so. Where's the "navigating the adult life" part???
04. Pick a friend who motivates you to pick up books you might not normally be interested in—is there a book they convinced you to give a try?
This one is a long time non-blogger friend, but she convinced me to pick up Pride and Prejudice due to her constant gushing of Mr. Darcy. And as an ESL, P&P is NOT a good book to start reading classics- the language is just too hard! But I do enjoyed the setting and atmosphere, and proceed to fell in love with the movie adaptation 😍
05. A book that is out of your comfort zone, but you would like to read: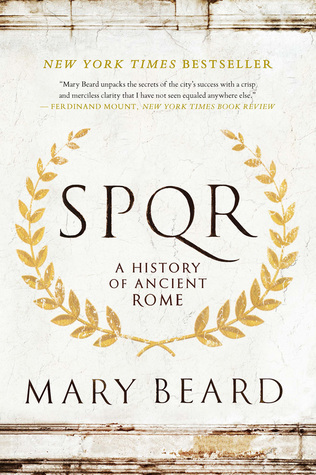 So many non-fiction books, as I really reached out for them. I find it really hard to read non-fiction, because sometimes they read like textbooks. I do have a lot of them on my tbr though, including SPQR by Mary Beard, Mythos by Stephen Fry, Battling the Gods by Tim Whitmarsh, and Bad Feminist by Roxanne Gay.
06. A book or genre so outside of your comfort zone that you'll probably never give it a chance:
Hands down, erotica. No thanks.
I won't be tagging anyone for this post, so if you want to do it, consider yourself tagged!