Huge thanks to Rita @ Bookish Rita for tagging me! I've been saving this tag for a long time, and there's no better time to do it than now 😁
Are there any books you started this year that you need to finish?
A lot, actually. I think I developed a habit of starting a book but not finishing it this year. This includes Intermission by Serena Chase, The Afterlife of Holly Chase by Cynthia Hand, Angel and Bavar by Amy Wilson, and Portrait of A Murderer by Anne Meredith. I don't think I'm going to finish all of them, but I could at least try to finish The Afterlife, Portrait, and Angel and Bavar.
Do you have an autumnal book to transition into the end of the year?
I don't. Since my country doesn't have 4 seasons, the end of the year blurred together into cold wind and rainy days 😂 I like to read longer books and darker theme books during this season, but I don't specifically have any books.
Is there a new release you're still waiting for?
Nope. I don't know if this counts, but Winter of the Witch was supposed to be released in 2018 before being 2019 so I'm still waiting for that!
What are three books you want to read before the end of the year?
Need by Carrie Jones (reread), Vengeful by V. E Schwab, and Carols and Chaos by Cindy Anstey. Again, I'm not sure it will happen (more not than yes), but I'm going to leave them here.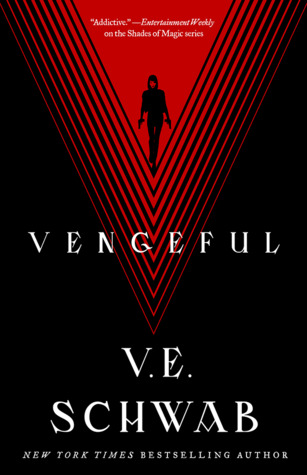 Is there a book you think could still shock you and become your favorite book of the year?
Vengeful by V. E Schwab. I've prepared myself for all kinds of shock, but when comes to this series… it's usually to brilliant for me to prepare!
Have you started making plans for 2019?
Actually, I have! I want to reread more series next year, to clean up my bookshelf and continue on all the abandoned series so I want to reread 1 book and read 1 sequel each month. Included in this mission is: Need series (both reread and finishing), Shades of Magic (finishing), and The Lunar Chronicles (finishing). I am also joining 2019 Retellings challenge by Cornerfolds, and have some books stacked up already!
Is there any books you still need to start/finish? Do you have a reading plan for 2019?