Welcome to another edition of Screen Rambles! In case you're new to this blog or not know what is this series about, Screen Rambles is where I talked about all the shows and movies I've watched in the previous month in details. In short, this is where I ramble about them. Despite having a relaxing month in February, I actually didn't managed to watch much. I think I spend too much time reading, but I've also been really lucky with the shows I watched! This month, I discovered another favorite new show so without further ado, let's see what I watched in February!
Kingdom
Set in Korea's medieval Joseon period, it tells the story of Crown Prince Yi-Chang, who becomes embroiled in a coup/political conspiracy and is forced to embark upon a mission to investigate the spread of a mysterious undead plague that has befell the country's southern provinces.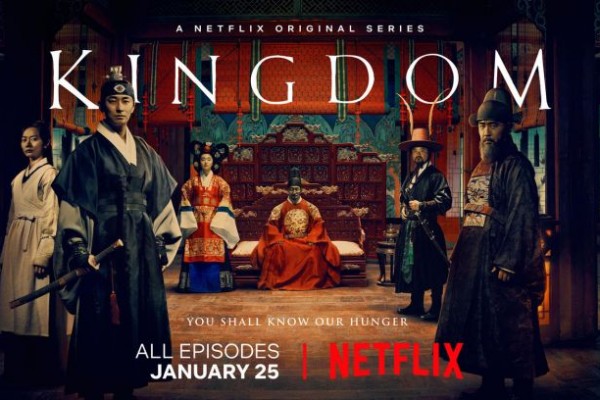 I've been wanting to watch korean drama for a while now, but also kinda lazy because each episodes is around 1 hour and they can get pretty lengthy. When I found out about Kingdom, I was intrigued due to its historical setting and mystery, but also skeptical since I didn't really enjoy zombies. It was only 6 episodes though so I decided to give it a try.
Let me tell you, this show really delivers! The court intrigue is really interesting and the villains are really frustrating, in a I-hate-you-so-much frustrating. It is full of twist and turns that will leave you hanging! We didn't get to know the characters deeply, but the thrill and worry are enough to keep you watching.
Just like other zombie movies, this movie also spend majority of the time trying to hide from the undead. However, the stakes and suspense are really high in this one! First, the zombies are supremely creepy. I swear it was the scariest I've ever seen. The fact that this series set in the ancient time makes matter harder as there are only woods and swords to protect themselves, no guns and electricity to kill the zombies. To further complicates the matter, in Korean Joseon (idk about now), they do not allowed the burning of bodies as they believe it will cause the spirits to wander. This of course adds to the suspense as without any method to kill the zombies, their number will continue to grow.
This series is a proof of South Korea and USA media cooperation done well; they managed to present a zombie story, which is a modern story, without losing the core of korean drama. Kingdom still has that awkward moment, funny jokes, and endearing but awkward love interest characteristics of k-drama. It also managed to present Korean history and traditional values to the international market, and it's really interesting to learn more about them. I'm so happy that I give this show a shot and I can't wait for the second season!
Fantastic Beasts and Where to Find Them: The Crimes of Grindewald
I admit, I wasn't the most hyped up for this installment. While I was hyped for the first movie, after seeing Johnny Depp casted and hearing that this would be a 5 movies series, I quickly lost interest. I don't feel like Johnny Depp is the right person to play Grindewald (there's also his case against Amber Reed) and 5 movies are just too long. It's obvious that this series is a money grab and I'm really disappointed, because I was so excited to get back into the wizarding world.
I think I made the right decision by not seeing it in the theater, because I would be so disappointed. Nothing really happened in this movie, it felt like a filler for further installments (which is why 5 movies are too long!!!!). The acting is superb, but it just doesn't feel like it's worth a whole movie? I love Leta Lestrange and Theseus Scamander though, I hope we could see more of them! And that wands to the ground sequence is just beautiful, I love it! In terms of characterization, I know Queenie's actions are questionables to many, but I find myself understanding her desperation and eventually, her choices. It's not right, but it was pretty clear from her actions in the movie.
I wasn't really hyped for the ending though because it's an obvious lie to keep Credence on their side and keep us watching. Not to mention the queerbaiting issue in this installment. It's been a while since JKR "revealed" that Dumbledore is gay, so of coure many of us are hyped to see this movie for more of their relationship, but noooo there's no representation on screen. She keeps revealing "additional" facts but refused to put it on canon, and I think that saying a lot. I'm not sure how interested I'll be for the next installment but overall, this one fell really flat for me. 
And that's all I watch in February! Did you watch anything in interesting during the month?