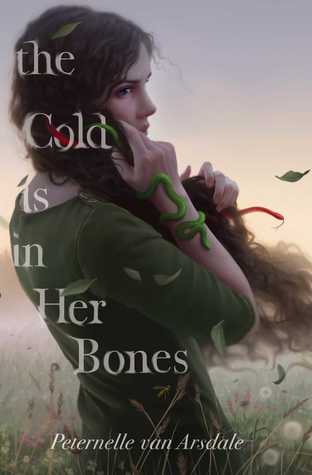 The Cold is in Her Bones
by Peternelle van Arsdale
E-book, 288 pages
Published January 22nd 2019 by Margaret K. McElderry Books
✰.5
One girl must uncover secrets of the past to save her friend from a terrible curse in this dark and mesmerizing story of love, revenge, and redemption inspired by the myth of Medusa.
Milla knows two things to be true: Demons are real, and fear will keep her safe.
Milla's whole world is her family's farm. She is never allowed to travel to the village and her only friend is her beloved older brother, Niklas. When a bright-eyed girl named Iris comes to stay, Milla hopes her loneliness might finally be coming to an end. But Iris has a secret she's forbidden to share: The village is cursed by a demon who possesses girls at random, and the townspeople live in terror of who it will come for next.
Now, it seems, the demon has come for Iris. When Iris is captured and imprisoned with other possessed girls, Milla leaves home to rescue her and break the curse forever. Her only company on the journey is a terrible new secret of her own: Milla is changing, too, and may soon be a demon herself.
The Cold Is in Her Bones is a novel about the dark, reverberating power of pain, the yearning to be seen and understood, and the fragile optimism of love.
I received e-ARCs for this book from Netgalley in exchange for an honest review.
Look, I really wanted to love this book. I love mythology and retellings: Medusa is one of the most famous story with complex undertone and interpretation. She is commonly portrayed as a villain even though in reality, she was a victim. Therefore, when I first saw this book, I was super excited because it's finally time she got her own story. However, this book really let me down.
"And she grew angrier and angrier and angrier that all anyone wanted her to be was an idea they held in their head that had nothing to do with her. And this anger became bitterness, and this bitterness turned her into a monster."
The prologue was fantastic. Despite being short, it gives you an idea on how the direction the story would take. It tells the story of Hulda, who is considered strange by her family and the village due to not following the common duty of being a woman. She ended up being punished in such a terrible way that turned her and haunts the village. The atmosphere is very intense and dark, sending creeps down my spine and really sucked me into the story.
This atmosphere manages to stay throughout the book: the village is tortured by the curse and the book managed to convey their dread and desperation really well. Staying true to the Medusa story, this book also delves into the complex dual role Hulda played: victim and villain. Both women refuses society's idea on what a women should be; they paid the price that consumes their whole existence. This portrayal creates a lot of opportunities to explore the story, and yet this book failed to do so.
"She looked down on her plate. She wondered if all girls were treated this way, like something to be frightened for, or ridiculed and thought ignorant if they never did speak, or found useless if they weren't perfectly behaved all the time."
I found myself really bored while reading this book and had to force myself to finish it. The plot is lacking and the story lacks a clear direction: I can't tell you what happened in this book not because of it has a complicated, convoluted plot, but because I don't even think it has any. It is a story of love, revenge, and redemption, but the way it was executed does not mesmerized me at all.
The pacing is also really off; despite being a short book, the story seemed to drag on and on. And finally, the characters are extremely bland and not explored thoroughly. We didn't know Iris at all and nice is the whole description for Niklas. I actually like Milla as a character, all she wanted was for her parents to accept her for who she is and explore the outside world. However, the lack of plot and story means her character development is going nowhere. The ending is also very anticlimactic and compared with the lack of world building, it just felt really underwhelming.
While atmosphere and the thread of the story are important to me, they are not the only element that makes a book work. Unfortunately for this book, other elements did not work at all for me which is why I gave this book a really low rating. The plot is lacking, the direction of the story is unclear, and the pacing is really off. The characters are also bland and so disconnected from the readers. It's extremely disappointing, especially since this book seemed to have a lot of potential.