by Rebecca Podos
e-ARC
Published May 28th 2019 by HarperCollins/Balzer + Bray
✰✰
Ruby Chernyavsky has been told the stories since she was a child: The women in her family, once possessed of great magical abilities to remake lives and stave off death itself, were forced to flee their Russian home for America in order to escape the fearful men who sought to destroy them. Such has it always been, Ruby's been told, for powerful women. Today, these stories seem no more real to Ruby than folktales, except for the smallest bit of power left in their blood: when each of them comes of age, she will have a vision of who she will be when she dies—a destiny as inescapable as it is inevitable. Ruby is no exception, and neither is her mother, although she ran from her fate years ago, abandoning Ruby and her sisters. It's a fool's errand, because they all know the truth: there is no escaping one's Time.
Until Ruby's great-aunt Polina passes away, and, for the first time, a Chernyavsky's death does not match her vision. Suddenly, things Ruby never thought she'd be allowed to hope for—life, love, time—seem possible. But as she and her cousin Cece begin to dig into the family's history to find out whether they, too, can change their fates, they learn that nothing comes without a cost. Especially not hope.
---
Trigger warning: transphobia, anti-semitism
I received an e-ARC of this book through Edelweiss Plus in exchange for an honest review
I was expecting so much more from this story. The synopsis gives me The Raven Cycle vibes, of 3 women siblings with real magic, no matter how diluted it is, living together through reading others. The Russian background and the tales of their escapades also seemed like a dark and tragic story to read.
Sadly, this book is not what I expected. I love the ties between the Chernyavsky's siblings, yet it was overshadowed with Ruby and Cece relationship. This one is pretty uncomfortable to read, as Ruby seems to be obsessed with Cece, to the point I thought this book will have f/f incest in it 😣 The pacing was really bad, I was struggling to finish this book. Furthermore, none of the characters felt interesting to me.
I enjoyed the way their story was unfolded and what their true powers actually were. This book really questions about family and the truths within stories. However, the ultimate villain felt comical and cliche– after all the build up and mystery, I was hoping for more. The reasons were believable, but the reveal and the fight felt anticlimatic and rushed after the slogging pace most of the book.
I admit, I skim read many passages of this book- the writing doesn't feel beautiful, instead it feel heavy. There is an f/f rep as well as transgender character, but since I didn't feel any connection to the characters, nor knowing anything about the representation, I will refrain from discussing it in this review.
In fact, I don't think I will discuss any of the characters, as we don't get to really know anyone except for Ruby. And Ruby's character pretty much revolves around herself as she got some pressing issues need to be solved, that I can totally understand why she seems to think about herself 24/7. One note though, her voice doesn't feel like a 16 year old. In fact, it felt like 13.
All in all, while the premise is interesting and some parts of this book was good, ultimately, it doesn't work for me. The pacing was excruciatingly slow, the characters weren't really fleshed out and the voices are too childish, and the finale felt anti climatic.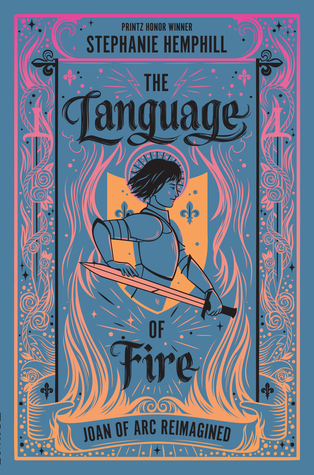 The Language of Fire: Joan of Arc Reimagined
by Stephanie Hemphill
ebook, 512 pages
Published June 11th 2019 by Balzer + Bray
✰✰✰
This extraordinary verse novel from award-winning author Stephanie Hemphill dares to imagine how an ordinary girl became a great leader, and ultimately saved a nation.
Jehanne was an illiterate peasant, never quite at home among her siblings and peers. Until one day, she hears a voice call to her, telling her she is destined for important things. She begins to understand that she has been called by God, chosen for a higher purpose—to save France.
Through sheer determination and incredible courage, Jehanne becomes the unlikeliest of heroes. She runs away from home, dresses in men's clothes, and convinces an army that she will lead France to victory.
As a girl in a man's world, at a time when women truly had no power, Jehanne faced constant threats and violence from the men around her. Despite the impossible odds, Jehanne became a fearless warrior who has inspired generations.
---
I received an e-ARC of this book through Edelweiss Plus in exchange for an honest review.
This is my first time reading book that is written in verse, so I honestly don't know what to expect. But I'm super excited to read it, because I think it would be a perfect style to tell the story of Joan.
Joan of Arc has been a fascinating figure for many centuries for many people. There's not many known of her as a person, what we know of her is claim to be chosen by God, her subsequent role during the 100 years war and her eventual death. Many fascination rests on the fact she was a simple farmer's daughter, whose role and place were defined strictly at her time, and yet she managed to lead an army towards victory.
This book offers an insight through Joan's life and mind from her childhood to her death. I love the reflection on the role of women and how she was hated basically because she was a girl and didn't fit the role she was supposed to be- I think verses are a great medium for this. As most women in her time, they are considered simple and weak creatures, they had to be pliant in their role and does not concern themselves with other affairs; the affair of war, for example. Even important women don't always get their live recorded on, so it's less likely to have surviving records of Joan before her role in war. Therefore, it is interesting to see how the author fill the gap of her previous life and her struggle to be heard and believed in. How she trained herself to ride horses, fight, and get used to the armor without actually having the resources. Most importantly, I love how she felt doubt, even after all the victories. We know she is human, but reading it made her felt even more real to me.
Unfortunately, it felt monotonous in many places. It is written in verse and while it successfully conveyed the feelings of Joan, so many tactical and physical aspects are glossed over. I was excited to get to this part because I'm curious on how she held up on her own and how she got her voice heard to lead an army. And maybe some battle strategies.
Depending on what you're looking for, this book might work for you. But I think to tell her story as a whole, of her experiences and battles as well as her thoughts, this writing style just doesn't fit and removes a lot from my reading experience.