Welcome to another edition of Screen Rambles! In case you're new to this blog or not know what is this series about, Screen Rambles is where I talked about all the shows and movies I've watched in the previous month in details. In short, this is where I ramble about them.
Soo while I didn't read a lot last month, the 10 days national holiday provided me with a lot of time to catch up with my family. Plus, the cable provider opened ALL channel for free during the holiday- one of the channel they opened was TvN movies, so I've been watching a lot of korean movies 😁
The Pirates
I've loved Kim Nam-Gil since I watched him as Bidam in The Great Queen Seondeok. My mom was in the mood for some sageuk, so I decided to watch this movie and surprise! There he is. It's been a while, but he still has his charm and acting style.
This movie is set during the start of the Joseon era, when the Emperor of China gave the name and imperial seal of the newly-made Joseon. Sadly, the seal wasn't delivered safely and ended up being swallowed by a whale. Two group of pirates then raced to find the seal, save the official's face and save the fate of the kingdom.
It's not exactly the sageuk my mom imagined, I think she preferred one with beautiful dresses and court intrigue. But she still enjoyed it! As you can imagine, this movie is full of laughs and crazy shenanigans. I think it has Pirates of the Caribbean vibes, but it has less romance and more Korean culture. This one was definitely a pleasant surprise and a great way to start the month!
Miss Granny
This one is just a definite feel good movie. Miss Granny was so popular in Korea, several countries actually work together with the production house to remake this movie in their country. Indonesia is one of them, and we really enjoyed watching the movie in the theater!
This one tells a story of this old lady, who after all the struggle, managed to raise her only son into a successful person (the career paths different in each movie). As the result, she was so proud of him, but also treat others badly, especially for her daughter-in-law, who the grandma often criticizes. This caused conflict within the household that eventually caused them have to sent the grandma into a senior house. Distraught, the grandma runaway and found this mysterious photo studio that ended up reversing her appearance back 50 years. Chaos and hilarity ensues as we have this pretty young girl with all the grandma mannerism, hairstyle, fashion sense, and cutting tongue!
I can't say much about the enjoyment level because, well, it's as enjoyable as the first time I watched it! The plot is exactly similar, the only difference is the pop culture and cultural depiction within the movie. I think it's the perfect movies for those who wanted to start on watching korean movies!
Memories of the Sword
Another sageuk, this time starring one of my favorite Korean actor, Lee Byung Hun!
Unfortunately, this one is my least favorite out of the bunch. I won't tell you the plot because I think it's too convoluted, but it's basically about love, betrayal, and revenge. I hate the way they go back and forth all the time, giving us too small details and barely moving forward in the present. I also think it's just too dramatic and boring in general.
Grease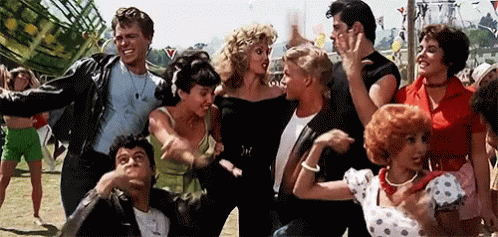 My favorite "old" movie, and also my mom's! This one is just a feel good rewatch, it just feel nostalgic (even though I wasn't even born then lol) and also provide a lot of talking materials with my mom 😁
Along with the Gods 1-2
Another rewatch! Still as good as the first time, I think I watched each movie another four times during the 10 day period 😂 Can't wait for the 3rd movie which will probably start shooting after D.O's military service sigh!
Dark Phoenix
Let's cut to the chase: I think this one could be a decent movie if only it was released before Captain Marvel and Endgame. Let's just face it, they set the bar really high and after Apocalypse (and the news of Fox buy-in), I think the hype died out.
I love this reiteration of X-men, mainly because of McAvoy and Fassbender, but because of how young the X-men was, it feels more relateable for me. This movie was not as bad as the review made it out to be, but it didn't live up to First Class or DoFP. The villain was weak af, there is no continuity, and there are many unsolved plot holes. Oh also, I think McAvoy was shooting Glass so his characters kinda bleed into this movie and it's just weird to see a muscular Professor X 😶
But the character dynamics are awesome (no, I'm not talking about Cherik exclusively). I think instead of making Apocalypse, they should make Dark Phoenix a two part movie because tbh, as much as I love Sophie Turner, we didn't know her Jean Grey long enough to care for her. And just because Apocalypse was terrible. The dynamics between Scott and Jean are really good here, as well as Beast and Charles. I also love the train fighting sequence and of course, the ending!
This one is an unrelated critic, but I've seen so many decent superhero movies got panned because "it's not funny". I mean, why are we expecting everything to have MCU-kind of humor??? Not everything has to be funny, it gets boring you know. Give me something dark (BvS actually worked except for that cursed Martha scene), something like The Dark Knight. Stop rating movies unfairly just because it doesn't fit the mainstream success plot MCU has created.
What did you watch in June?