Hi everyone, I finally can come up with a halloween-themed content!
Despite not having autumn in my country and not celebrating halloween either- a fact, I continuously lament on my blog- I always try to join in on the celebration by creating some halloween themed contents. In 2016, I joined a halloween-themed readathon (TBR post, wrap up post). In 2017, I created my own event called #Spooktober and writes about creepiest book covers, urban legends and books inspired by them, favorite supernatural episodes, and creepiest Indonesian ghost. And in 2018, I did the halloween book covers tag, halloween creatures 2.0 book tag, and talk about supernatural creatures I want to see more in YA*.
*Which, I think is being read and heard by book gods somewhere because we're getting so many elves and necromancers this year!!!
This year, I didn't get to plan a specific book-themed contents. However, I've been doing a lot of scary movies marathon and some movies on my list are horror classic such as The Shining and Friday the 13th. All this old movies made me think of horror movies I loved when I was a kid, whether because it was fun or scary and I decided to write a post about that!
This post will be separated into three sections which are: western, Japanese, and Thailand. This is because we all think Asian horror movies are so much more scarier than the western and Indonesian, particularly Japanese and Thai ones. Therefore, most of my childhood was spent screaming at this genre with my friends 👻
So without further ado, let's see some of my favorite halloween movies!
Western
Van Helsing is my jam! I love this movie so much and still rewatch this often. I love the plot, the characters, and the setting is just perfect! And the ending is definitely not one I used to watch, it gutted me then! I also really enjoyed the original Underworld trilogy, Selene is such a badass! I never watched the rest of the series though and from what I read, I'm glad I didn't.
Thirteen Ghosts, Urban Legend, Jeepers Creepers and House of Wax fell into the category of "movies I accidentally saw on TV. Thirteen Ghosts stood out to me because of its unique premise and house it sets on. I watched the rest of House of Wax because of Jared Padalecki and I love the eerie atmosphere. Totally balked at the gore though 😵 Urban Legend was one of my first introductions to Bloody Mary and while it's not as scary as other movies, it's scary enough that it got me scared of mirrors for a while. And finally, Jeepers Creepers got me scared of large trucks for a while!
One Missed Call is actually something I watched when I was a liiitle bit older than the other movies, but it also stood out to me. It came out in a period where I haven't been watching any horror movies for a while and it was supposed to be so good that everyone was talking about it. I would say the movie wasn't scary at first, but it did escalate as the story goes. And the ending!!! I'm forever scared of late night calls.
Japanese
There's only two movies in this category because Japanese horror movies are the scariest, we rarely watched them. And if we do, we took a lot of preparations and usually still regret it afterwards.
I think we all can agree that The Ring is one of the scariest movie ever made and if you're scared of the western one, you can't handle the original Japanese version. There's a reason why it's so famous, and it's because this movie is so eerie and haunting and extremely scary.
Dark Water is a movie I don't think I would be scared of if I watched it now. But I was a little kid when I watched it and it scared me because I thought someone was going to take my mom too 😅 I honestly still get a small stab of fear every time I saw a lone red backpacks.
Thailand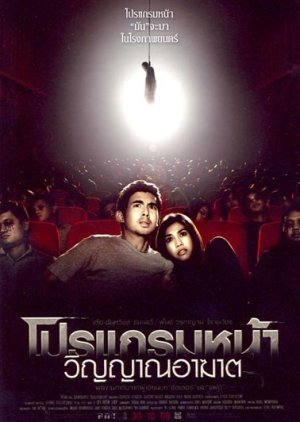 It's been a while actually since I watched Thai movies so the memories are more blurred compared to the others, but what scares me the most is how probable are the situations are. Phobia deals more with karma and local traditions- in which we have a lot in my country. There are many stories of people who breaks the traditional ancestral law in a certain place and got followed or cursed or just experience supernatural events. Alone is about a sibling's revenge, and The Eye makes you wonder of what would happen if you got an eye donor from someone who can see ghosts. There's also Ladda Land which is a classic haunted house story (with scarier ghost) and Coming Soon is about a ghost that haunted a movie theater.
Thank you for reading! Now it's your turn: what are your favorite childhood horror movies?