Hi everyone, today I'm bringing you my TBR for nostalgiathon hosted by Alexandra @ Twirling Pages, Tiffany @ Read by Tiffany and Breana @ milkyboos. You can read more information on the official readathon twitter.
When I first saw this readathon, I know I have to join in because it's such a perfect opportunity to reread some of my childhood favorites! Not from my pre-teen or teenage years, but like from when I was really young. Even looking at my stack of childhood books trying to decide which books to read was already a very nostalgic experience, so I'm really happy that I joined!
Since the readathon actually began at 7 August, I already read some of the books. But let's just see what I'm reading for my readathon!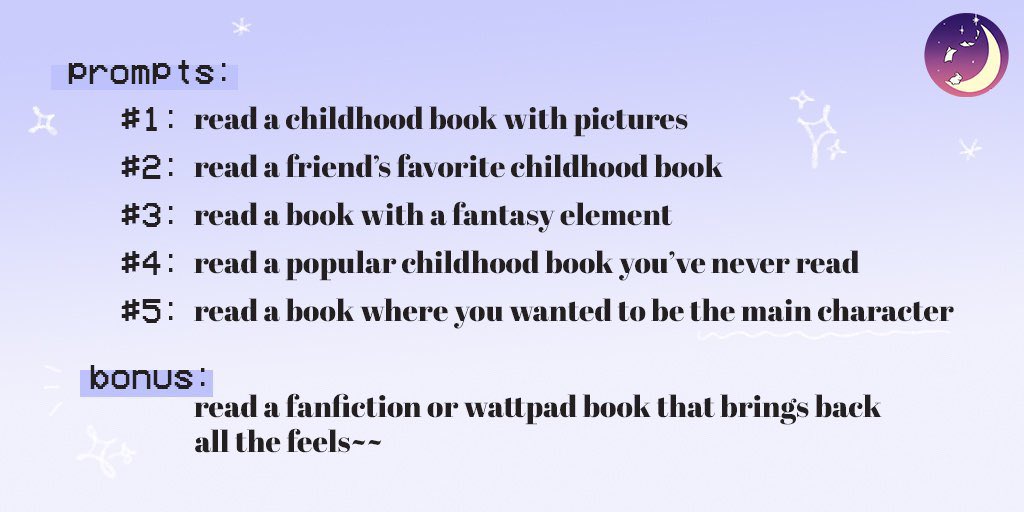 #1. Read a childhood book with pictures: The Toddlers: Cerita Alkitab Menjelang Tidur
This was one of my absolute favorite when I was a kid as you can see by the state of my copy 😂 Basically this book is filled with short stories (like really short) based on real life activities that taught us about God.
I already read this one and I'm happy to report that I still really enjoyed it. It was super quick and I find the story holds up really well- some of it still hits me. The writing and the way the reflective questions are given felt so innocent and young. The illustrations still appeal to me and it's very nostalgic- one look at the picture and all the memories of what's the story would be about just rushed back at me. Even more nostalgic, apparently it was given for my 3rd birthday by one of my neighbor in my old neighborhood (which I have moved from). She wrote a note at the cover of the book and it's… really sweet 💖
#2. Read a friend's favorite childhood book: Beck Beyond the Sea
I don't really have a lot of reader friends growing up so I was going to read my sister's favorite book. But then I saw Tiffany @ String of Pages' Nostalgiathon TBR, who said that Tales from Pixie Hollow books were her favorite, so I decided to read Beck Beyond the Sea by Kimberly Morris 💙
My sister used to LOVE the Tinkerbell movies so this makes me want to plan a rewatch with her.
#3. Read a book with fantasy element: Puddingham Palace
This comic is such a hidden gem and I'm forever sad there are only 2 volume of these. It is a satire on Buckingham Palace and I remembered how much I loved these comics when I was younger! It's hilarious, I love their antics and how poor Ernest have to clean up after them 😂 It has a lot of fantasy elements- as you see, there are many animals on the cover and it's because the queen, the prince, and princess Agatha are the only humans in this comic. The rest are all animals so there's plenty of fantasy there.
#4. Read a popular childhood book you've never read: A Series of Unfortunate Events
There are a lot of popular childhood books I've never read; growing up, I'm not exposed to western pop culture such as Enid Blyton, The Babysitters Club, Matilda, Dr. Seuss, etc.
I have a lot of options for this prompt, but I'm going to go with The Bad Beginning, which is the first book in A Series of Unfortunate Events! I've heard nothing but amazing things about this series, I know there's a movie (which I watched but only have vague recollection of) and a Netflix series so I know it's very popular. I don't know much about this series either, I think there's someone named Violet and Count Olaf is the main villain?? I prefer to not know what the series is about but I do wonder about the unfortunate events and the unfortunate children experiencing this events.
Really excited to finally get the answers to my curiosity! 🤪
#5. Read a book where you want to be the main character: Detective Conan Volume 26
I'm going to go with Detective Conan volume 26 because who doesn't want to be Ran or Kazuha (or Aoko or Sonoko)?? 😍🙈 I picked this volume specifically because it has one of my favorite storyline, The Desperate Revival!
I've read this comic and I'm also happy to report that I'm still a sucker for Conan and this arc is still one of my favorite! The beginning, the reveal, the murder mystery, the date, the angst, the fluff… They just work really well!
BONUS: Read a fanfiction
In case you don't know: I LOVE fanfiction- have always been and have always will. So again, I have a lot of options for this one 😂 When I was a kid I used to read a lot of HP fanfictions, especially on dramione and marauders era fics. I'm thinking of rereading The Life and Times by Jewels5, which is honestly the best HP fics ever. It's during the marauders era and while it is a Jily (James and Lily) fanfiction, it's so captivating in a way that it gives lives to many of the side characters (Marlene McKinnon, for example), day to day life and Hogwarts, and the shadow of war that's coming. It's just soo good, it has its own Goodreads, TV Tropes, and Fandom page!
However, due to recent events I don't think I'll read any HP fics. And anyways, it's super long and still ongoing (or abandoned? At this point we're all in this limbo since 2013 😭) I don't think I can catch all the feels again only to be abandoned again 😭 I have a couple options from Marvel, The Hobbit, and Supernatural fandom, but I finally decided on Midgardian Smut by LulaMadison (Marvel's The Avengers) and the inexhaustible silence of houses by steeplechasers (Supernatural). They have such a different mood- one is almost crack and the other is like sad and I honestly would just read Midgardian Smut, but the inexhaustible silence of houses was one of the first fanfictions I've read so I gotta read it for this readathon.
❗ Anyways writing this post made me want to share my favorite fanfictions and Conan, so my post about fanfictions (which has been in my draft since 2016) and Conan will finally see the light of the day soon!
Edit 12/08: Apparently I already wrote a post about fanfictions?? I totally forgot about that but if you're interested: Why I Love Reading Fanfictions (+Some Recs!)
So those are the books I'm reading for the readathon! Are you participating? What are your favorite childhood books? Do you like reading fanfictions?