Welcome everyone to another Screen Rambles post! In case you're new to this blog or not know what is this series about, Screen Rambles is where I talked about all the shows and movies I've watched in the previous month in details. In short, this is where I ramble about them.
I think I watched the most stuff in the month of April to May, so this one we'll start with the continuation of what I watched in April 😄 Let's get started!
The Accidental Detective 2
This is the sequel to the Accidental Detective, where two of our beloved grumpy x sunshine detective decided to open a detective agency together and discover that, well, there's not a lot of cases out there except for missing cats and dogs 😅 They eventually found a case of a missing man that turned out to be more than it seemed and open a whole can of conspiracy, and it's a rollercoaster ride from there!
This movie adds the eccentric IT whiz played by Lee Kwang-soo. And while his character is hilarious (obviously 🤣) in terms of plot I loved the first one better! Don't get me wrong, this one is also filled with interesting twist and turns and the ending was unpredictable, but you can sense that something was wrong from the beginning while with the first movie, it's more eerie and suffocating with more murders keep happening without clear connection. It's still a great crime-comedy movie though so if you're looking for one, I highly recommend this duology!
White Hot: The Rise & Fall of Abercrombie & Fitch
I initially have no interest in watching this and after watching this, I don't think I have much to say. We do have A&F here, but it's not such a cultural phenomenon as it was in the US. I think Giordano or Bath & Body Works would be in the same power. Or maybe it's just me being in a different social sphere? 🤔
But anyways. I think it's still interesting to see the rise and fall of the brand; from how it initially started and marketed as, how it backfires and tarnished the reputation, as well as how the campaigns hid something more. Maybe it's just me from a conservative country, but did no one looked at the ads they pulled and felt weird/curious/intrigued? It's not like they're CK or other popular underwear brands, what's the need for so many naked men? 😅 And did no one from HR raise a red flags on how people were hired based on their looks rather than their work? 😭 Bad branding and bad corporate governance, in the hindsight it was truly a company waiting for implosion 😬
Bad & Crazy
I've been wanting to watch this k-drama ever since it was announced and the teasers were dropped! I'm glad I finally got the chance to sit down and watch, because it really hooked me from the very first episode.
Bad & Crazy may have the same premise as with other crime-drama, which is how corrupt the police establishment is and to uncover some problems. Except… this time our main character Ryu Sool-yeol is one of the corrupt police himself, who suddenly kept being visited and beaten by this mysterious person "K" no one else could see. Other main characters including Lee Hui-gyeom, Sool-yeol ex who worked for the narcotics division and Oh Kyeong-tae, rookie police with a sense for justice that often got him in trouble.
With only 12 episodes, the plot is very action packed and fast paced. All of our 4 main characters are extremely competent, there's no scenes of them bumbling around or making rookie mistakes. I would say that the overarching shadow plot was… unnecessary though. Despite the loveline between Sool-yeol and Hui-gyeom, there's no slow motion, longing stares etc. The dynamic between the characters were also great, with Sool-yeol and Hui-gyeom overcoming their animosity and learn to trust each other again, Sool-yeol learn to trust K, and Kyeong-tae following and trusting Sool-yeol whole heartedly. All of the actor's acting were also amazing, I will definitely check out more of their works!
Our Father
Our Father is one of my most anticipated Netflix documentary. In case you didn't know, it is based on the case of fertility doctor Donald Cline, who used his own sperm to impregnate dozens of unsuspecting patients.
This documentary… creeped and disgusts me. There's no other word to describe it. Relationship between patients and doctors are supposed to be secret and respectful, because you depend on them to save your lives and well, it is service. Especially in terms of ob-gyn or fertility, where us women are really on our most fragile and personal. This doctor just… do it without anyone's consent. I believe he didn't think he'll get caught as he didn't predict the rise of at-home genetic test. When he did get caught, he tried to deny and beg for it to not be released to the public, which means that for all he thinks his intentions were good, he still did it. Not to mention, as a fertility doctor he knew that if he was a regular person, he couldn't be a donor due to multiple health issues he had.
I just can't describe how vile this person is and the fact that he still has his license 🤢
Hustlers
I was sooo excited for this movie when I saw its trailer, with how good JLo was and the fact that this movie also has Cardi B and Lizzo! Alas, it turned out to be more… boring than the trailer depicted.
This movie started out fine, with Destiny (Constance Wu) struggling to make ends meet in the strip club until she met Ramona (JLo), who took her under her wing. The relationship was immediate; Destiny looked up to Ramona and Ramona was fond of her. It's like they immediately clicked as sisters and truly trust each other, but personally I couldn't see the why. The movie and business were going well, until the 2008 recession hit and at the same time, Destiny got pregnant. The movie then took a more somber tone- even the scam their pull later on has the undertone of anger and bitterness. I love the scenes but the secondhalf of the movie, with the new girls and all, the acting got really awkward… I don't know whether it was intentional, to show the difference between the OG girls and the new crew, but it wasn't the best.
JLo, Lizzo, and Cardi B were truly the stars of the movie, they just stole the scenes whenever they appeared!
Handmade Love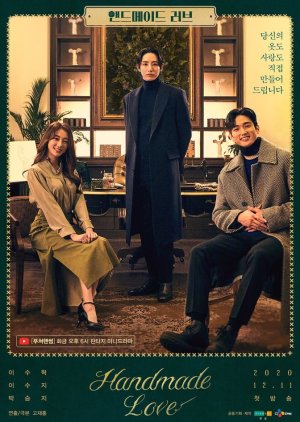 I also watched Tomorrow in April and since I've loved it so much, I already wrote a separate review for it!
Anyways, one of the star of Tomorrow was Lee Soo-hyuk and as with everyone else, I promptly fell in love and wanted to see more of him. Doom at Your Service and Scholar Who Walks the Night were some prospects, but I felt like they were too long so I settle on one of his webdrama, Handmade Love which is also available on Youtube!
I think it's supposed to be a promotion for a clothing company, but the way the drama is produced is very high quality! The shots, the set design, the CGI… all felt like a full length drama. The story is about Woven, the cursed god who must design and create outfits that are comforting to humans problem, in order that he may regain entry into heaven. He was accompanied by his assistants, Joey, as well as clientele-turned-assistant-and-love-interest Han Sarang.
I feel like each episode and the whole drama itself was so short, I don't have much to say except that I enjoyed it? I love getting to know the humans story, learning their emotions and how Woven's clothes help them in solving their problems. I really enjoyed Woven and Joey's relationship, in fact I think Joey really steal the scenes! The shots where Woven examined the clothes were honestly cringy (I skipped them lol) but other than that, this drama is very solid!
That's all for my recap on April – May! Tell me, is there anything interesting you watched recently?